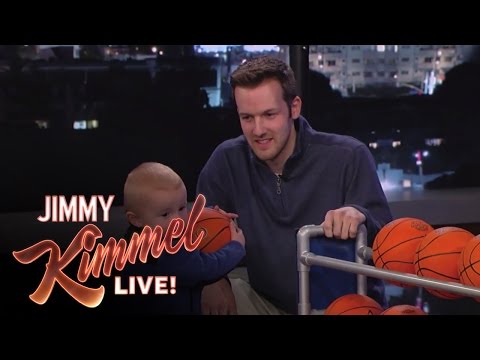 View 4 Items
YouTube

DERBY, Kan. — Titus Ashby, the 2-year-old basketball star from Derby, Kan., made his third appearance on "Jimmy Kimmel Live!" Sunday night.
Having already defeated Kimmel and Shaquille O'Neal on the national TV show, Titus was asked to come back to challenge NBA legend and 15-time All-Star Kobe Bryant.
The first 30 seconds went to Bryant, shooting at a 6-foot-6 hoop from 18 feet away. Bryant was able to knock down four baskets. Titus was next, shooting at a 3-foot hoop from 6 feet away. After his 30 seconds, Titus also made four shots, ending the challenge with a tie.
Bryant then gave Titus a pair of his shoes, in the NBA player's size. According to Lakers Nation, the episode was pre-recorded last March as Bryant is currently still healing from his torn Achilles. Three months ago, Bryant tweeted, "Thanks @jimmykimmel for having me! Lil Titus is going to be a beast at bball!"
Fans have commented on the YouTube video, requesting a dual between Titus and LeBron James next.