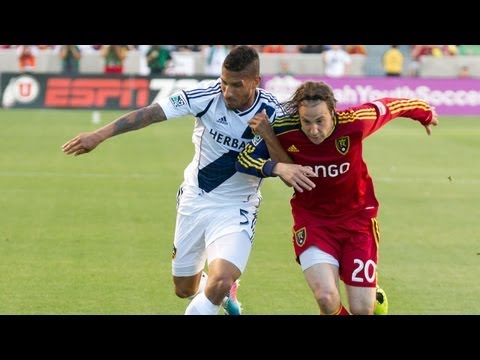 View 17 Items

You play with the best players in the U.S. You train with them. You try to prepare yourself. If something happens, you want to be ready. To train with these guys who are proven in Europe, confidence-wise, it's big for anybody that goes in.

—RSL goalkeeper Nick Rimando
SANDY — Although Nick Rimando wasn't able to pick up career shutout No. 104 on Saturday, the veteran 'keeper secured win No. 145 — second all time in MLS.
RSL's veteran goalkeeper stopped only one shot during his team's eventual 3-1 victory over the L.A. Galaxy on Saturday night at Rio Tinto Stadium, and it was the latest in a number of impressive saves he's made this season.
In the 36th minute, the referee awarded the Galaxy a free kick in a dangerous area near the top of the box. A left-footed attempt by L.A.'s Jose Villarreal seemed destined for the goal, but Rimando thwarted Villarreal with a punch save.
"I couldn't see the ball," said Rimando. "Juninho came up and faked like he was going to kick it. Villarreal kicked it and hit it pretty well. Luckily I was staying stuck in and made the save to my right."
While it was his only save of the match, Landon Donovan buried a one-touch shot off a loose ball to deny the Real Salt Lake 'keeper a shutout.
Rimando will now get another shot at the international level, as the RSL 'keeper departed Sunday to join Jurgen Klinsmann and Co. for the U.S. National Team's upcoming phase of World Cup qualifiers.
"You play with the best players in the U.S.," Rimando said of the opportunity. "You train with them. You try to prepare yourself. If something happens, you want to be ready. To train with these guys who are proven in Europe, confidence-wise, it's big for anybody that goes in."
The U.S. hosts Panama in Seattle this Tuesday, before heading to the Wasatch Front to take on Honduras inside the confines of Rio Tinto Stadium on June 18.
Rimando has often found himself as the No. 3 goalkeeper in the U.S., but hopes to finally get a chance under Klinsmann's ever-rotating player pool in the buildup to World Cup 2014.
"It's an honor and something I'm very excited about," said Rimando. "There are no light games. Panama is up there, and we've got a game back here in Salt Lake. We need to keep putting the ball in the back of the net and the defense needs to keep playing well."
(G)OLMES GARCIA: Olmes Garcia sure hasn't disappointed in his time with Real Salt Lake.
The 20-year-old Colombian forward has scored four goals in only 400 minutes on the pitch, including two late goals against the Galaxy Saturday.
"I am here to apply my skill and this is my job, to score goals," said Garcia through a translator. "And thanks to God I had this opportunity to score."
2
comments on this story
RSL coach Jason Kreis acknowledged the hunger he sees in his young forward, and that his desire to play and win is exponential.
"First and foremost, it's how hungry he is. You can tell that this is a kid who really wants to do well and take the next step in his career, and he's been given a terrific opportunity to do that. ... If he continues to show that sort of hunger and that sort of desire, then he has all the tools," said Kreis.
"He's got it all, so for me the only question mark would be his desire, and right now he's showing that by the boatloads."
Follow me on Twitter: TheConner88