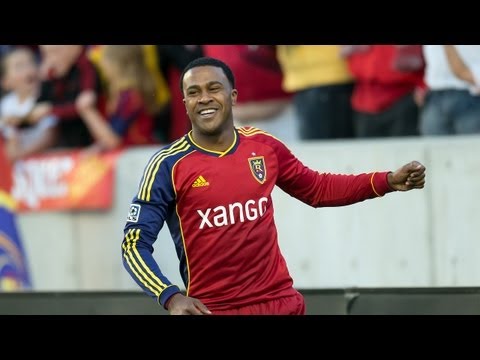 View 15 Items



SANDY — Real Salt Lake coach Jason Kreis couldn't help himself. Perhaps it was just instinctive for the retired MLS forward to come to the defense of a fellow striker.
When asked about Findley's performance last Saturday following RSL's 3-0 win over San Jose, Kreis went out of his way to curtail rumblings about Findley's disappointing season before praising his goal and assist contributions against the Earthquakes.
"Robbie is an interesting case because people don't quite understand what we understand or what we see as a coaching staff," Kreis said.
He then proceeded to talk about the time Findley missed in the preseason because of injury, and the groin injury he suffered against Seattle on March 31 and then the quadriceps injury he picked up on April 26. The latter two injuries kept him out of the starting lineup for eight straight games in April and May.
When Findley finally returned to the starting lineup against Chicago on May 25 and Atlanta on May 28, he played timid at times and was criticized by many for his poor decisions in the offensive third.
Last Saturday, Kreis was quick to defend Findley and those struggles.
"He looked exactly like an injured player would coming off an injury. People that don't understand that he's been going through these injury issues, probably would look at it and get frustrated, but the coaching staff doesn't. We have a lot of belief in him," Kreis said.
"Tonight, I think he showed that he is back at the top of his game, and we are very, very happy that he is."
To stay there, Findley will need to stay healthy. Considering his penchant for picking up nagging injuries — whether in MLS or during his two-year stint in Europe — that won't be easy.
As of now, though, Findley says he's feeling great after Saturday's performance and looking forward to a visit from the L.A. Galaxy this weekend.
"Each week it gets better, which is good. I'm doing the right things I've just got to continue doing them," Findley said. "For me (confidence) plays a big role. When you're scoring goals and playing well, you're just in that zone. When you have that confidence it helps out a lot."
Kreis said that confidence should swell if he can stay healthy.
"For Robbie, it's a matter of playing time on a consistent basis and training on a consistent basis," he said. "It's been very sporadic, and you just can't find any rhythm or flow or form in that set up. I'm hopeful he has a little confidence under his belt, he should, and he continues to move forward from there."
The oft-injured Findley has just three goals this season, but he's scored twice in Real Salt Lake's last three league games dating back to his goal as a substitute against Chivas USA on May 19.