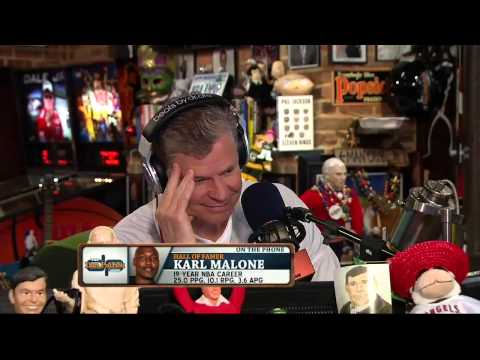 View 2 Items

Wednesday morning, Hall of Famer Karl Malone caused a stir after snubbing Michael Jordan in favor of Scottie Pippen while discussing his all-time starting five on "The Dan Patrick Show."
"I need a three man. I'm going to shock the world. I have to put Scottie Pippen as my three man," Malone said to an incredulous Patrick.
Malone's line up included former teammate John Stockton, Oscar Robertson, LeBron James, Wilt Chamberlain and Pippen.
After the interview, Malone clarified via Twitter that he was just joking with Patrick.
"Dan Patrick had a man crush on MJ from the time we started the interview. I was just messing with him," he tweeted.
Later in the day, Malone called in to SportsCenter and talked to fellow Dream Teamer Chris Mullen about speculation that he left Jordan out because he lost his only two finals appearances to Jordan's Bulls.
"Anytime you start a starting five, you're going to leave someone out'" Malone said. "Michael Jordan without a doubt is on my starting five, I'm not a hater and I'm not bitter."
Mullen asked Malone about his decision to coach the Jazz big men next season.
"I will be starting out very slow," Malone said. "I will not be on the bench a lot, but we're going to ease into it. I do have a five-year plan, about what I would like to be doing, but I'm going to start out slow and get my feet wet."
Asked jokingly whether he would consider coming out of retirement for the Jazz, Malone said he will need to work hard to hold back his desire to play again.
"We have two unbelievable big men," Malone said, "What I will work really hard at is to say, 'OK, Karl, you had your turn, now let's work with the big guys.' I will say this, I cannot show or teach young kids anything, they've got to be willing to learn."