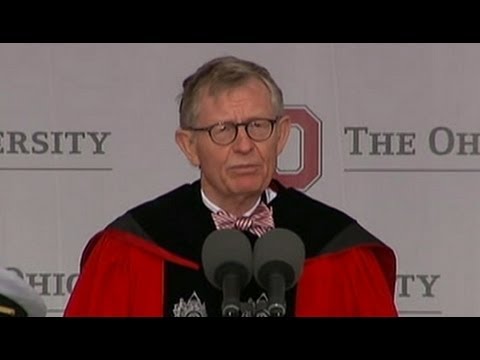 View 7 Items

Gordon Gee is sorry he insulted Catholics.
The question is: Why did he do it? For laughs?
Gee is the president of Ohio State University. He grew up in Vernal and has ties to BYU and Utah. In 2010 he was named the best university president by Time Magazine. He is a prolific fundraiser and speaker and is smarter than most of the people we send to Congress.
But why?
According to a recording of a December meeting of the school's Athletic Council, Gee was speaking about why Notre Dame was not included in Big Ten expansion.
Said Gee: "Those damn Catholics can't be trusted. The fathers are holy on Sunday, and they're holy hell on the rest of the week. You just can't trust those damn Catholics on a Thursday or a Friday, and so, literally, I can say that."
The comments were met with laughter. He wasn't through.
---
Hear Gordon Gee's comments
---
Explaining why the Big Ten had a goal of top academics, Gee said the league wanted to "make certain that we have institutions of like-minded academic integrity. So you won't see us adding Louisville." After more laughter, he added that the Big Ten wouldn't be adding Kentucky either.
Gee said it was a mistake not to invite Kansas and Missouri in earlier Big Ten expansion. Missouri has since joined the SEC.
"You tell the SEC when they can learn to read and write, then they can figure out what we're doing," Gee said in answering a joke question of how to respond to SEC folks who said the Big Ten can't count because it now has 14 teams. He then said Big Ten commissioner Jim Delany is aggressive "and we need to make certain he keeps his hands out of our pockets while we support him."
Gee has apologized for his remarks in a statement released by Ohio State, and the school announced he would undergo a "remediation plan" as a result of what he said.
Now, I grew up in Gee country. My father was principal of Ashley Valley Junior High School and I went to Central Elementary in Vernal. While some oil-rig folks may have joked around that way in the Uintah Basin, the people I knew — Johnny Snyder, Ross Landon, Becky Sowards, Michelle Stewart and others — were not brought up to use careless insults.
People who went through BYU's law school at the time Gee worked there praise him to no end for his abilities and personality.
Everyone likes to get a laugh once in a while. One might argue: Lighten up, he was just having some fun.
But the Catholic thing? It was a lame and wasted attempt at humor.
As a Mormon, Gee has to be used to all kinds of jokes, jabs, stereotypes and teasing. He's gotta know the religious laugh button is a sensitive push.
Maybe he's just joined the rest of the crowd in this country who believe Christian, Mormon and Catholic bashing is fair game, but Muslims are off-limits. It's kind of nuts.
That's why his comments were mega-dumb.
25
comments on this story
Gee represents the NCAA. It is guys like him who are in charge of that organization, vote on legislation, form committees, set rules, etc. Sure his job is to raise money, be funny, wear goofy bow ties, be glib and entertain. But you'd expect more maturity from a guy getting paid $1.9 million a year as an educational leader.
"The comments I made were just plain wrong, and in no way do they reflect what the university stands for," Gee said in the statement. "They were a poor attempt at humor and entirely inappropriate. There is no excuse for this and I am deeply sorry."
Well, that's a start.
It makes one wonder why students go into all sorts of debt with student loans to attend a university.
It also begs the question: Are we all OK with who is running the NCAA?
Dick Harmon, Deseret News sports columnist, can be found on Twitter as Harmonwrites and can be contacted at dharmon@desnews.com.