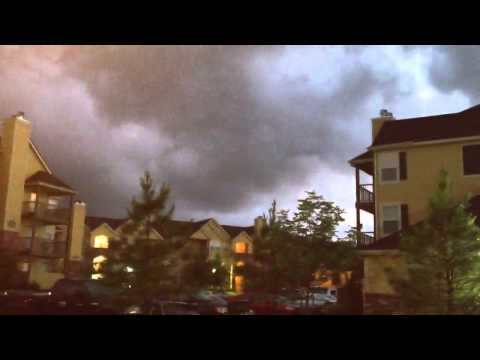 View 13 Items

BROKEN ARROW, Okla. — At least two tornadoes touched down in Broken Arrow, Okla., Thursday evening just 10 days after an EF-5 twister ripped through the city of Moore, killing 24 people and destroying hundreds of homes.
Anxieties were high as Oklahomans waited out torrential downpours, severe flooding, golf ball-sized hail and EF-0 and EF-1 tornadoes that made contact with local businesses and neighborhoods.
News On 6 reported, "At about 8:45 p.m., storm trackers spotted a tornado on the ground in east Broken Arrow, which moved to the east along Highway 51. Trackers reported seeing damage to structures and trees and power lines in that tornado."
Roughly 394 homes remain without power. As the storm moves east, News On 6 says the threat has not fully passed. "A risk of severe weather remains over much of northeastern Oklahoma into the evening hours."
Residents of Broken Arrow, Okla., seek shelter after tornado sirens alert them of nearby tornadoes. At least two tornadoes touched down within three miles of this apartment complex on Thursday, May 30, 2013.
Brooke Willardson Porter is a California native turned Oklahoma adoptee. She is a writer, editor and full-time wife to a busy pediatric resident. Join her worrisome scenarios and solutions at atleastitsnotasingle.blogspot.com.
EMAIL: bporter@deseretdigital.com