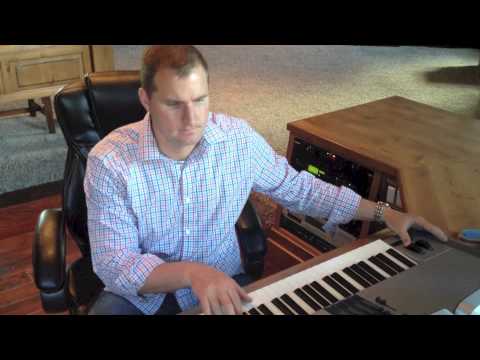 View 10 Items



You work hard on something for a few days, and it has legs for five years. It'll just show up. I'll be watching TV, and a movie trailer will come on, or a Kraft Macaroni and Cheese commercial, or Jay Leno or anything, and I think, 'Oh! There's my music!'

—Lisle Moore, professional composer
HIGHLAND — NBA fans are familiar with the ESPN NBA theme song. Every time the self-proclaimed worldwide leader in sports broadcasts an NBA contest, the same music plays to introduce the broadcast.
Likewise, during the World Cup in 2010, the same music played before and during every World Cup match on ESPN.
The man who wrote these two songs is Lisle Moore, a resident of Highland, Utah. A sports fan and father of five, Moore has lived in Utah since 1994 and met his wife six months after arriving.
A Missouri native and graduate of the Interlochen Institute of the Arts, Moore has built a career for himself in the international music industry as a composer. He works primarily out of his own private studio he built adjacent to his home. Garage on the outside, professional composition studio on the inside — a structure aptly dubbed "The Garage Majal" — Moore has created some of the most widely heard music throughout the entire entertainment industry from within its walls.
Among the major achievements on his resume, besides the aforementioned ESPN NBA and World Cup themes, is music for the "Spider-Man 2" and "Spider-Man 3" trailers; music for the Harry Potter and the Deathly Hallows trailers; ESPN's tennis themes; the IMAX film "Pangaea;" the 2008 film "The Flyboys;" the music for television news stations nationwide — including Salt Lake City's KSL and ABC 4 — and theme music for the No. 1 syndicated television program in America, Judge Judy.
"His Garage Majal is the house that Judge Judy built," said James Conlee, a personal friend and valued associate of Moore's as well as a talented professional singer in his own right.
The pathway Moore's music takes as it travels from the Garage Majal to the airwaves travels through Warner Chappell, the audio publishing library for Time Warner and one of the three largest audio publishing libraries in the world. Although based in Los Angeles, Warner Chappell maintains an operation in Salt Lake City, and according to Moore, all but controls the industrial audio market in Utah.
On special occasions — Judge Judy, ESPN or major movie trailers — Moore knows beforehand his music's specific purpose, though he often isn't guaranteed a contract when writing for major projects.
"All those songs, NBA things, etc. I have to win," Moore said. "There are a lot of filler gigs that they give me, but those huge, major ones, though, they still send out to a lot of people. I almost had the 'Man of Steel' trailer, but I lost it."
More often than not, Moore is simply writing to hit a target style to add new inventory to Warner Chappell's library. Every time one of his musical clips is used anywhere in the world, Moore is paid a royalty for his music. All that music has meant money for Moore — and a lot of it.
"Of course, there's still custom gigs — the World Cup or films where they need something custom to be done — but a lot of it now is writing library-production music," Moore said. "You work hard on something for a few days, and it has legs for five years. It'll just show up. Someone in Istanbul or someone in Germany could have used it today, and I get a cut of that. I'll be watching TV, and a movie trailer will come on, or a Kraft Macaroni and Cheese commercial, or Jay Leno or anything, and I think, 'Oh! There's my music!'"
Moore's success in the music industry is the result of incredible musical talent and solid personal connections. He has come a long way from when he arrived in Utah in 19 years ago. Following a world-class musical education at Interlochen, Moore moved to Boston to attend Berklee College of Music, but didn't finish his education.
"I arrived in Utah literally starving," Moore said. "Someone finally believed in me and gave me a shot. The second that that happened, all their connections became mine.
"In my line of work, no one ever asks you where you went to school. They ask, 'Can you do it? Either you can do it or you can't. Show me your demo reel.' Most people in my industry never finished school. However, education is important to me and I always push myself now to learn and adapt in this industry."
Moore's relationship with Warner Chappell began in 2001, and before the 2006 FIFA World Cup in Germany, Moore had landed himself a contract to do all the World Cup themes for ESPN, a contract that will end after the 2014 Brazilian World Cup because FIFA's broadcast rights will transfer to Fox Sports. After 2014, Moore will take up new projects and other work.
Currently, Moore is involved in the composition of music for two separate feature film projects with Utah-based film production studios. Though he has considered avidly pursuing composition credits for major feature films, he has generally decided against it. According to Moore, such work would make being a family man very difficult.
"The hours that they put in would probably not facilitate a very good family setting," Moore said. "I think I'll just be happy with what I have. I'm happy with where I live, happy with what I have, and I'm satisfied creatively."
It's safe to say that sports and movie fans are also satisfied with Moore's creative efforts and will be for years to come.
Landon Hemsley is the sports content manager for DeseretNews.com. Email: lhemsley@deseretnews.com. Twitter: @EarlOfHemsley