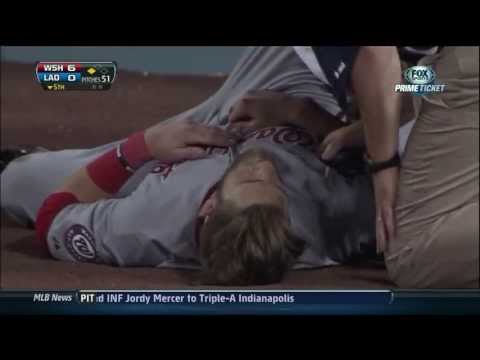 View 11 Items

The past week was another rough one for Bryce Harper, and the Nationals record has reflected his batting — very inconsistent.
The Nationals went 4-4 since the beginning of last week, and while it could be worse, they must win more games to catch the Atlanta Braves in the division.
Harper hit his 12th home run of the season last Wednesday against the defending World Series champions, the San Francisco Giants. With 12 home runs, he is currently tied for third in the National League.
Other than the home run however, Harper has been inconsistent on the field. While getting on base in every game in which he played this past week, he failed to get into a rhythm. Being the most dangerous hitter on the team, he has hurt the Nationals.
His aggressive style of play came back to bite him in Sunday's win over the Phillies as Harper re-aggravated his knee three times. The original injury was a result of a collision with a wall on May 13th in a game against the Los Angeles Dodgers.
After the win, Nationals manager Davey Johnson believed that the way Harper has been sliding is a big reason why his knee started bothering him again.
"If he'd quit head-first sliding, he'd be a lot better off," Johnson said to ESPN. "He'll probably be down a few days. I don't know if there's fluid on the knee or what, but he was certainly gimpy."
Harper, however, felt different.
"I'm going to feel it either way," he told the Washington Post. "It doesn't matter. If I slide feet first or headfirst, I don't think that's going to help it."
Harper's style of play has already drawn the attention of Johnson and led to him sitting Harper for the past two games against the Baltimore Orioles, in which the Nats split the pair of games with Baltimore.
Comment on this story
When considering his injury, Bryce thinks that for the rest of the season, he will have to just deal with the pain.
"It probably won't get better until the offseason," he told ESPN. "I've just got to deal with the pain. … I could rest it for four days and feel better and I could go out there and slide and bang it up again — and back to square one."
As the season continues to move along, Harper has to find a rhythm in order for the Nationals to pick up steam. Both Harper's game play and the Nationals' performances continue to be correlated.
Stay tuned for how Harper battles this coming week.
You can follow Mitch Kunzler on Twitter at: @MitchKunzler