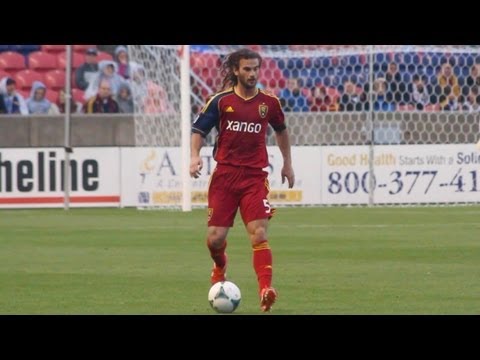 View 28 Items




I don't think it should've gone to overtime in the first place, but we all got it together and we came up with two goals, outscoring our opponents, and ended up winning the game and that's what's most important.

—Khari Stephenson, Real Salt Lake
SANDY — Nothing has ever come easy for Real Salt Lake in the Lamar Hunt U.S. Open Cup, so there was no reason to expect anything different during Tuesday's third-round match.
Even though RSL never trailed after opening the scoring in the second minute, it conceded a late Atlanta equalizer and was forced to sweat out overtime in a game it could've finished off an hour earlier.
At the end of the day though, RSL found its finishing panache in extra time, scoring twice on its way to a 3-2 victory in front of 9,644 fans on a wet and windy night at Rio Tinto Stadium.
After Atlanta's Kellen Gulley — on loan from the Chicago Fire — scored in the 87th minute, RSL's Devon Sandoval and Khari Stephenson scored just three minutes apart in the first overtime to finally finish things off.
"I don't think it should've gone to overtime in the first place, but we all got it together and we came up with two goals, outscoring our opponents, and ended up winning the game and that's what's most important," said Stephenson, an 84th-minute substitute.
A year after a miserable effort in an Open Cup third-round loss to Minnesota Stars FC, RSL came out on the front foot against the Atlanta Silverbacks of the NASL, and could've easily been leading by three or four at the half.
As often happens in soccer though, when you don't finish your chances and you let an inferior foe hang around, anything can happen.
"For us tonight, it's another game where we've got to put away our chances and it's an easy night," said RSL coach Jason Kreis. "A team like that, if you leave them hanging around, they've got enough dangerous players … and they don't quit. They never say die."
With the victory, Real Salt Lake avoided the upset bug that plagued MLS teams in last year's third round.
A season ago, eight MLS teams lost to lower-division opponents in the third round, including RSL. On Tuesday though, the bigger clubs took care of business, posting a 7-2 record, with seven more MLS vs. lower division games on tap Wednesday.
The lone MLS losers Tuesday were San Jose and Colorado. San Jose's 1-0 loss to the Charleston Battery of the USL Pro could benefit Real Salt Lake.
Instead of hosting a fellow MLS foe in the fourth round, Kreis' team will host Charleston on Wednesday, June 12. RSL's Open Cup record against lower-division teams is 3-2, but it's only 3-6 against fellow MLS foes.
The winner advances to quarterfinals, a round RSL has never advanced beyond in club history.
Spurred on by comments from Kreis, who reminded everyone that last year's third-round loss was the worst night in club history, RSL jumped on Atlanta early as an unmarked Kyle Beckerman headed home a Javier Morales corner kick for the 1-0 lead.
The early goal was a welcome sight for RSL a year after conceding a third-minute goal in a 3-1 loss to Minnesota. It created chances to double and even triple the lead, but Kreis believes complacency contributed to the poor finishing.
"In soccer, it's a cliche, but you can score a little bit too early sometimes. People tend to relax a little bit and we got into some bad habits in the middle part of the first half," said Kreis.
Findley missed a point-blank chance in the second minute — which led directly to Beckerman's goal — and then Morales missed what should've been an easy goal of his own from close range in the 26th minute.
Early in the second half Sandoval had a close-range header saved, and with each near miss Atlanta's confidence about a potential upset swelled.
In overtime though, Sandoval poked in a quality cross from Joao Plata in the 98th minute and then Stephenson banged in a 25-yard shot in the 100th minute to increase the lead to 3-1.
3
comments on this story
Atlanta's Pablo Cruz cut the deficit to 3-2 in the 121st minute, but there was no time left for another rally from Silverbacks.
Despite the physically draining victory, Kreis believes it could be a positive heading into three straight MLS home games beginning this Saturday against San Jose.
"I think this could be somewhat of a momentum builder for us if we take it the right way. You can look at it the negative way and say we shouldn't have had to get to overtime, or you can look at it the positive way and say that was a really difficult test for us," said Kreis.