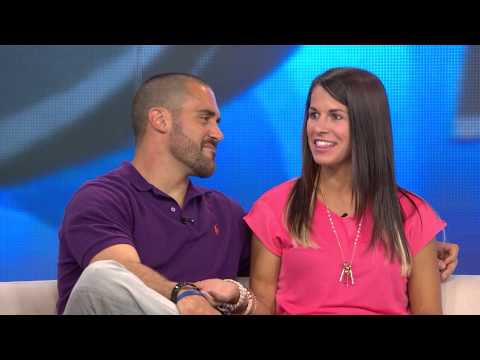 View 14 Items


Every day he left at five in the morning and wouldn't come back until seven. He is such a hard worker, and he would even help with Kalé because he's a light sleeper. He's done so much for our family and supporting him is easy.

—Kiana Williams, wife of Karl
LAYTON — There was a time when Karl Williams wasn't interested in football. His first sports interests were soccer and baseball, but as he grew older and bigger, in the ninth grade he thought he would give football a try.
It took one play for "The Truth" to become hooked on football forever.
"My first touch ever in a game I scored a 75-yard touchdown run," he said.
Since that play he has dedicated himself to the game of football and proving that he can play at the highest level.
He wasn't even the starting running back at Layton High School. He started his senior year as a fullback, but an injury gave him an opportunity and he ran with it.
He rushed for 996 yards and 11 touchdowns for the Lancers, leading them to the 5A state quarterfinals.
"I knew I could play with the best," he said of the confidence he gained as a senior in high school. "I could play at the Division I level in college and I just wanted that opportunity."
That opportunity was hard to find. Offers came from Air Force, Idaho and Weber State, but he felt his best chance to play was at Southern Utah. Williams started at fullback as a true freshman for the Thunderbirds, but a game against San Diego State at Qualcomm Stadium left him wanting to play on a bigger stage.
"I saw the atmosphere there and the crowd and the stadium, and I said, 'I want this,'" he said. "'I want to play at this level. I can do this.'"
He left behind a full-ride scholarship in Cedar City and decided to transfer. The problem was he didn't know where he was going.
It just so happened that shortly after he made the decision to transfer, his mother bumped into a family friend, Dave Cunningham, and informed him of her son's decision. Cunningham trained Williams in high school and also played middle linebacker at Utah in the mid-'90s. It was Cunningham who arranged for Williams to meet with University of Utah head coach Kyle Whittingham.
"Coach Whit asked me why I wanted to come to the University of Utah," Williams recalled. "I told him, 'I want to play at this level and I want to be a Ute.'"
Coach Whit called him the next day and told him he was on the team.
Williams was a Utah fan and Matt Asiata was his favorite running back. The opportunity to play big-time college football was his and it was going to happen at the University of Utah. But then the reality of his decision started to sink in.
He was now a walk-on.
When he wasn't practicing or going to class he was working a part-time job. He worked as a valet, worked with kids and found jobs at law firms. He did whatever he had to do to make ends meet.
"It's hard," he said. "It's probably one of the hardest things I've gone through in my life, but I felt like giving up that scholarship has made me a better person and a better man."
He would soon take on even more responsibility. He married Kiana Fonua in 2012. They would soon welcome a son named Kalé. Life was already a challenge for Karl, and now he needed to provide for a family.
"Every day he left at five in the morning and wouldn't come back until seven," Kiana Williams recalled. "He is such a hard worker, and he would even help with Kalé because he's a light sleeper. He's done so much for our family and supporting him is easy."
Williams would battle through long days and sleepless nights with the love and support of his family.
"He was having such a hard time and feeling down on himself," she said. "We'd always just tell him the hard work would pay off."
The payoff would soon come.
Williams started to see time on offense during the 2012 season after spending almost all his time on the scout team and special teams. He scored his first college touchdown against Arizona State — the same week his grandmother passed away. He finished the season with seven carries and nine catches. Coaches started to take notice of his hard work and dedication.
The three-year walk-on was fighting his way through another grueling 6 a.m. workout in February when Whittingham gathered the team together for an announcement that would change Williams' life.
"As soon as he started talking about somebody who's worked hard and been here committed to our team, who's started on special teams for the past three years, I knew it was me," he recalled about the moment he learned he had earned a scholarship. "I started crying because it's been such a tough road between those three years to get to this point in my life. Afterwards everyone was jumping on me and was giving me hugs. I know I have a family now and I know I'm a big part of this team."
He may be a bigger part of this team next fall then most ever expected. Williams was a star during spring football and put up big numbers. He rushed for 108 yards and three touchdowns in the Red-White Spring Game. He showed coaches he is more than just a fullback and is a viable option as an every-down back. He's put himself in the mix at running back and is listed with Lucky Radley and James Poole behind Kelvin York on the pre-fall depth chart. He left quite an impression on the coaches with his performance.
"If you're going to talk about a pleasant surprise, he might be the most pleasant surprise of the spring," said Utah co-offensive coordinator and running back coach Dennis Erickson.
Williams already has a great story to tell, but he believes this is just the beginning.
"My time is now," he said. "I wanted an opportunity to show people what I can do. I want the ultimate goal. I want to make it to the NFL. I want to provide for my family and I didn't feel I could do it if I was in the shadows and didn't get that opportunity. Now I've opened up a door and I'm stepping through it with arms open."
We'll see what surprises "The Truth" has in store this fall.