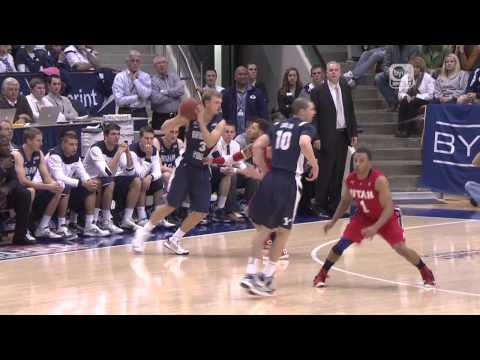 View 15 Items

Tyler's transition to his mission to his first year back playing was as consistent and as successful as anybody who's ever made that transition.

—BYU coach Dave Rose
PROVO — Hundreds of athletes have made the transition from returned missionary to college basketball player.
But perhaps nobody has done it so seamlessly, and impressively, as BYU guard Tyler Haws.
It takes most returned missionaries awhile to recapture their abilities. In Haws' case, he not only recaptured his abilities quickly, but he got even better than he was before his mission.
After returning home from the Philippines last April, Haws was patient, and gradually eased back into the sport rather than immediately immersing himself in scrimmages.
That approach paid big dividends. Haws led the West Coast Conference and finished No. 7 in the nation in scoring (21. 7 ppg), and his 780 points stands as a Cougar sophomore record. That's also the No. 4 all-time best scoring total in a single season in school history.
"Tyler's transition to his mission to his first year back playing was as consistent and as successful as anybody who's ever made that transition," said BYU coach Dave Rose. "He had a tremendous sophomore season. We expected him to have some of the games that he had because he is so talented, but the consistency for a guy who hadn't played for a couple of years was really impressive."
Talk about consistent — Haws scored 20 or more points 25 times.
In December, he poured in a career-high 42 in a victory over Virginia Tech, joining eight other BYU players, including his father, Marty, to score at least 40 points in a game.
Tyler Haws also joined BYU legend Danny Ainge as the only Cougars to reach the career 1,000-point milestone during their sophomore seasons. And, with 1,177 career points, Haws set the school record for most career points through a sophomore season.
Will Haws' post-mission success serve as a blueprint for other returned missionaries at BYU?
"The key now in dealing with that transition is the timing," said Rose. "We've had missionaries that have returned the end of April or the first of May, but not very many. Most of the guys come home around June. But we've had quite a few return in late July, August, September and even October. Those transitions are extremely difficult."
With the LDS Church's policy change for missionaries, which allows them to begin serving at the age of 18, more are leaving for missionary service earlier in the calendar year.
BYU signee Nick Emery, for example, completed his high school work early and entered the Missionary Training Center earlier this month. Two other signees, Jakob Hartsock and Braiden Shaw, are expected to leave for missions soon. Guard Jordan Chatman, who signed in 2011, will be home next spring. Meanwhile, guard Cory Calvert, who just completed his freshman season, is also departing for a mission in the near future.
"What we hope that with the age being changed, that the majority of guys that leave after 18, they can go right after high school graduation, or even before high school graduation," Rose said. "That will have them returning in late May, or the first of June. Our program can be way more consistent with these returned missionaries because the timing would be similar."
Guard Kyle Collinsworth played as a freshman in 2010-11. He returned home from his mission earlier this month, giving him ample time to prepare for the upcoming season.
Rose would like to see Collinsworth follow the Haws model — and take the gradual, steady approach.
"Sometimes you get a guy that returns in July, and you want him to take the same program as the guy that came home in May. And they can't stay on it because their own competitiveness wants to speed everything up," Rose said. "Hopefully we can, starting in May when Kyle gets home, go through the process again with a lot of conditioning and strength training, and getting your body right, then slowly moving into starting to play. There's a lot of skill work by yourself during that time, but it's important to not start to play with the guys until 60-90 days down the road when your body's actually a lot more prepared to deal with it."