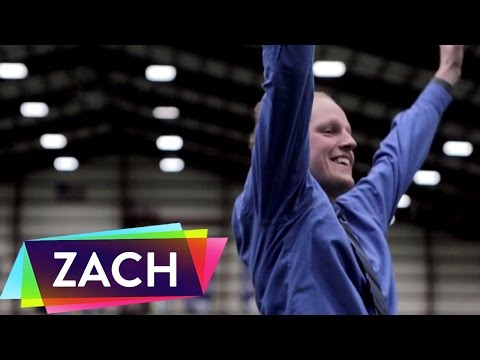 View 6 Items


STILLWATER, Minn. — Zach Sobiech has more than 4 million views on his YouTube video featuring his song "Clouds." But Sobiech has done much more in his 18 years than create successful music. After being diagnosed with osteosarcoma, a rare bone cancer, at age 14, Sobiech decided to live life to the fullest.
It was last May when the news came that Sobiech only had a month to a year left to live. During that time, Sobiech's mom suggested he begin composing letters, but instead he put his heart into his music to say his goodbyes.
Surrounded and supported by family and friends, last December Sobiech released his single, "Clouds," and in February, Sobiech's band, A Firm Handshake, released its album, "Fix Me Up." His songs came from his heart, many dedicated to those he loved.
"My closure is being able to get my feelings into these songs so that they can have something to remember me by — lean on when I am gone," Sobiech said in a YouTube video.
On Monday, May 20, 2013, the Children's Cancer Research Fund announced that Sobiech had passed away at home, surrounded by those he loved.
"Zach's life ended just as he lived, embraced by the love of his family, friends, grace and music," according to the news release. "Cancer may have taken Zach too soon, but he leaves a lasting legacy that most of us will never achieve."
Just two weeks ago, Sobiech was featured in a video by Rainn Wilson's media company, Soul Pancake, in coordination with its series "My Last Days." The 20-minute video shares in detail the impact that Sobiech has made as he inspired others by taking advantage of every moment he had left.
"I've been told I have a few months to live, but I still have a lot of work to do," Sobiech said in the video. "I want everyone to know, you don't have to find out you're dying to start living."
Sobiech belonged to a loving family that remained by his side, enjoying the moment when Sobiech's dream of driving a new car came true and simply listening to him perform his music.
"Being able to experience these things, it helps a lot," Sobeich said. "Because you can either sit in your basement and wait, or you can get out there and do some crazy stuff."
Most of all, Sobeich wanted to be with friends and family in everyday situations. Sobeich attended school, although he told his teachers he would not be doing much homework, it was the interaction with his friends that Sobeich enjoyed.
"What makes me happy is seeing someone smile, and knowing that you put it there," Sobiech said. "That's what's awesome about living in this world, is that you can help people."
In the video, his three siblings — Alli, Sam and Grace — along with his parents, Rob and Laura, shared their feelings and love for Sobiech as each has formed different bonds with him. Possibly one of the closest relationships Sobiech had was with his younger sister, Grace.
"Zach is like the other half of me," Grace said in the video. "All we need is to be there, in the same room with each other, and that's enough for us. Thinking about my life without Zach, it's really hard to think about that. I really get sick to my stomach when I think about it."
Family members weren't the only people Sobiech cared deeply for, as the video described the close relationship he had with his girlfriend, Amy Adamle. Adamle began dating Sobiech knowing that he would not always be around.
"We knew he was terminal when they started dating, and she knew that," Laura Sobiech said. "She sat down with her mom, and talked through it. And what they decided was, 'Would you date him if he didn't have cancer?' and she said, 'Yes.' She's really helped him through some hard times."
Although they were both very aware of reality, Adamle still expressed that they enjoyed dreaming about their future.
"We've talked about getting married and having kids and our jobs," Adamle said. "We do that a lot when we have bad days. So when we start to cry, that's when we'll sit down and we'll just plan it all out."
Through everything that they have endured, the one thing Sobeich's family knew they would always have with them was Zach's music.
"For me, it's Zach's way of saying, 'I'm OK,' and saying goodbye," Laura Sobeich said. "And I'm just so grateful that it's there because I'm going to need it later."
Older brother Sam Sobeich knew his brother's record was a testament of his love for his family.
"His music is kind of a record of how much he cares for us," Sam Sobeich said."
Grace also expressed the love she felt from her brother's music.
"There is a song that he wrote me, 'For my Grace.' So I'll keep that always with me, constantly."
Overall, Zach Sobeich expressed how the experience has brought his family together, even more than before.
"I think with my diagnosis, we've become a better, stronger family," Sobeich said. "We all love each other, just that much more. Because when you go through stuff like that, you go through it together."
Toward the end of the video, Sobeich was surprised with a celebrity music video of his original song, "Clouds." Participants ranged from Rainn Wilson, Jason Mraz, Sara Bareilles, Colbie Caillat and many others.
Sobeich's family has requested that all memorials be directed to the Zach Sobiech Osteosarcoma Fund in lieu of flowers to help carry on Zach's mission to help children with cancer.
My Last Days: Zach Sobiech "Clouds"
My Last Days: Meet Zach Sobiech