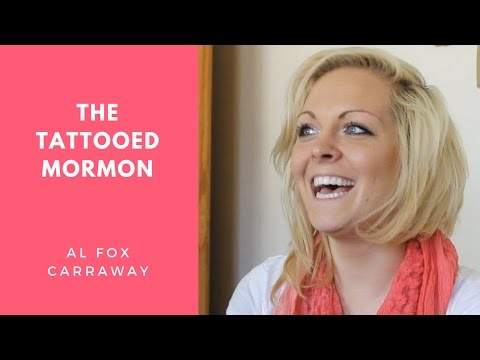 View 7 Items

Al Fox, otherwise known as the "Tattooed Mormon," has become widely known for spreading her message of faith and hope online, and by sharing her own journey of finding God.
Fox lived in New York when she first met missionaries from The Church of Jesus Christ of Latter-day Saints and was baptized. She considered serving an LDS mission, but after offering many prayers, she felt prompted to move to Utah. Leaving her family members behind, who were still confused about her decisions, Fox ventured out West, not knowing what Utah had in store.
Once in Utah, Fox decided she needed to share her conversion story through YouTube videos and on her blog, alfoxshead.blogspot.com. Hoping to spread messages of hope, Fox began to use this quote: "Use the Internet for good." As she continued to create inspiring videos, Fox's following grew. Now, with an ever-growing audience of more than 6,000 followers on Facebook and more than 200,000 views on YouTube, Fox has devoted her time to sharing her feelings about the gospel.
Within the month of May, Fox has already spoken at 14 firesides, many of which are geared to the youths of the LDS Church. A calendar can be found on her website showing that Fox is booked through December of this year.
While Fox speaks at many LDS firesides, she will also speak at other locations, such as the Women's Correctional Facility and some public events. Each day on Facebook, Fox shares motivation by posting uplifting thoughts such as, "Do not let who you used to be stop you from being who you can become." Another popular message Fox continues to share is, "If you think the Lord has turned his back on you, turn around."
Recently, Fox shared a piece of her story with filmmaker Seth Adam Smith, editor of the uplifting site Forward Walking. Smith describes Fox as a "modern Mormon pioneer" as Fox expresses in the video some of the most important truths she has learned.
"I have learned, relearned and felt and refelt that only with God, and with his help and his direction and his ways, am I (living) this happiness that I didn't even know existed," Fox said. "It's a real physical happiness that I can feel, and I only feel that if I turn to prayer, if I turn to reading scriptures — and you know the contrast is huge, it's absolutely huge, and it has made all the difference."
She also focused on speaking to those who may be struggling with their faith.
"I think it's really important if you have a question, don't turn to the Internet, don't turn to other people. If you want to know that God's there, ask him a question — ask him. … If you want to know that God's real, turn to him and not anyone else, and not give up. Just don't give up," Fox said.
Fox then encouraged others to remember that through God, they can conquer anything. She emphasized that God knows each person and wants everyone to return to him.
"Hard times will consistently be there," Fox said. "But so will Christ."
In regard to speaking engagements, Fox describes on her blog how to schedule an event:
"Please know I'm truly not saying this as a way to advertise myself. Any request to have me speak I please ask you to do so after pondering and praying, and only when you feel inspired to do so. I do travel, but everything must be cleared with your bishop or stake president through my bishop. Gas fees & plane tickets will be asked to be compensated."
Thousand of comments on Facebook and on DeseretNews.com articles attest to the impact Fox has had on many lives.
Comenter Coach Biff posted, "Had this young lady address our young men/young women the other night. Even the knucklehead deacons were riveted. Could have heard a pin drop. Not a dry eye in the place."
Nancy Murrock Taylor wrote, "Do you have any plans for speaking engagements in the East? Please message me if you ever are considering it. There might be stakes here that would have an interest."
Kim Pugmire Anderton posted, "As I see the posts you share from your speaking engagements and the number of people there, I am so touched. You are changing and touching lives more than you can imagine! You are a great missionary! I hope you see many more blessings come into your life for your efforts!"
Fox has also recently announced her engagement to Ben Carraway. The couple will be sealed in the Oquirrh Mountain Temple on Aug. 22, Fox's four-year anniversary of her baptism.