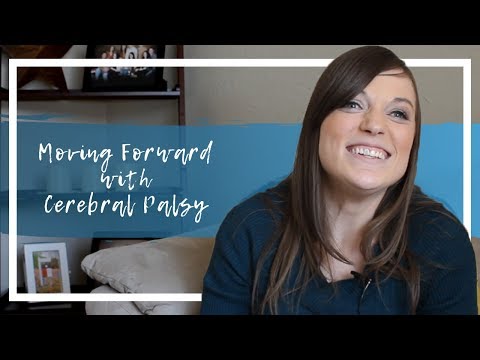 View 4 Items

Cassi Baird wasn't supposed to walk. She wasn't supposed to talk. She wasn't even supposed to be able to turn her head.
But Baird has spent the past 26 years of her life defying the odds by doing everything from walking to earning a master's degree in social work. Determined that she is on the earth for a reason, Baird continues to look forward and spread a message of hope.
"We were given the opportunity to come to earth, and if we're not doing anything, if we're just sitting around, then we're wasting our time, and we're not sharing the gifts we were given," Baird said. "We may have to figure out a different way to do it, but if you don't try, you're going to regret not doing it."
In a new video featured on an uplifting website, Forward Walking, Baird, along with her parents, share the miraculous story of her life. In the video they explain that Baird was born 10 weeks early with underdeveloped lungs, and a lack of oxygen to her brain resulted in Baird developing cerebral palsy.
The first miracle for Baird came when she was a new infant, struggling to survive. Baird's father, Scott Baird, had been told there were high risks during the delivery and while his wife Lisa would be fine, his new child would not make it through the night.
In the video, Lisa Baird described her memory of reaching out to the doctor in desperation, demanding that her husband be allowed to give her baby a blessing.
"There were so many wires in her head and in her heart, on her legs and feet, that you could hardly see her," Scott Baird described in the video. "The doctor came in and he said to the group, 'This is her father, he wants to give her her last rites.' … I said, 'Can I touch her?' And he said, 'Sure.'
"So I went ahead and put my hands on her head, and as I went to do that, all the instruments went flat line, and all the bells and alarms went off as if she had died. And when that happened the doctors just sort of stood back, it was like the parting of the Red Sea, they just sort of stood back and I walked in. I just remember giving her a blessing, and as I stood and was doing that, all the machines lit up again, and the doctor pushed me away and he said, 'Your God's done his thing; now it's our turn.' "
From then on, Cassi Baird would encounter endless challenges. Her parents were told that if she remained alive, she would never walk, have no use of her arms and possibly never have a coherent thought. Ultimately the doctors recommended that her life be terminated.
"That's just kind of been the whole history with Cassi," Scott Baird said in the video. "Everyone has constantly told us and told her, 'You can't do that.' And it's almost that she could hear them saying, 'No, you're not going to make it through the night,' and she would say, 'Oh yeah, I'll show you.' … There's just been this competitive battle with the whole medical industry, and she just continues to defy."
As long as she can remember, Cassi Baird has known about the miracles that took place when she was born.
"My parents have told me this story, that I was in the hospital and one of the nurses told my mom, 'You know, she's not even going to be able to turn her head.' And my mom said at that exact moment, I looked at the nurse and I turned my head," Baird said. "So you know, it's just been that way from the beginning of my life."
Baird was born in New York and lived there with her family until they moved to Provo, Utah. While she knew she had limitations that her brothers and sister didn't deal with, Baird felt like a normal child.
"They treated me normal and because of that I saw myself as normal," Baird said. "I was able to accomplish anything I wanted to do. My parents and siblings never told me, 'Oh you're not going to be able to do that.' They always said, 'If you want to do that then try it, and we'll see what happens.' They would always come and support me in anything that I did."
Baird laughed as she recalled one of her favorite, yet annoying, comments she often heard growing up.
"When I'd ask them to do something, my family would say, 'What, are your legs broken?' … I feel like the more normal we treat people, the more potential they see in themselves in what they can do.
"I truly believe that I would be miserable without the way that my family treated me. It's almost as if I would always be 'Woe is me,' but I didn't have the option to be that growing up, so I don't have that option now as an adult."
Although Baird felt normal at home, she still had hopes that one day her struggles would go away and that she wouldn't have to feel different at school with the other kids.
"The things that upset me when I was younger weren't that important. You know people were being mean to me or some people would push me down at school, and I'd come home and I'd cry for a second and then move on," Baird said. "As you get older you kind of understand when mean things are happening to you, but at the same time I understand that words are just words, and I can take what I want from it."
While growing up, Baird participated in many activities, such as softball, soccer, playing the piano and cello, even participating in beauty pageants. She knew she was different and wasn't sure how people would react, yet she didn't let it hold her back.
"I was definitely scared because I didn't know what people were going to think," Baird said. "But it didn't matter what people thought because I knew how I felt about myself."
Rather than seeing herself as someone who is different because of a "disability," Baird believes that she is just like anyone else, that her struggles are just more visible than others.
"Everybody has a disability, some we can see and some we can't," Baird said. "Just tell yourself, 'I need to try and see a positive attitude, or try to make something out of this experience.' I think that can help anybody."
But Baird was quick to admit that it's not always easy to see things or deal with different situations with a positive outlook.
"Obviously, I'm not happy all the time about this," Baird said. "There are some days where I get sad, and I allow myself to be sad for a short period of time. But then I'm like, 'You know what, I could have it a lot worse. I know people who have the same disability that I have, and they have it a lot worse. So I just need to remember to be grateful.' "
When Baird was in high school, she had difficulty finding a job.
"I had to work for my dad because nobody would hire me," Baird said. "There was a discussion once where my dad told me, 'You know, if you go to college you will be more qualified, and you will be able to have a career. People won't be able to not give you a job.' So it was then and there that I decided to go to college."
Baird attended Brigham Young University-Idaho, studying social work program. Her emphasis of study was personal; having dealt with several social workers in her lifetime, Baird also wanted to make a difference. As graduation grew closer, she looked into the option of pursuing a master's degree.
After deciding there was still more she wanted to do, Baird attended the University of Texas at Austin and received a master's degree in social work. She currently works at the Salt Lake District Attorney's Office as a counselor, working with victims of crime.
In working to exceeded expectations and overcome limitations, Baird constantly turns to her faith and membership in The Church of Jesus Christ of Latter-day Saints for strength.
"I don't know where I would be if I didn't have the faith that I have," Baird said. "I've had many blessings in my life, and just growing up I've received many blessings after each of my surgeries. And you know what's said in those are obviously very personal, but I know that God has spoken to me through those blessings and has helped me think positive.
"If I didn't have an eternal perspective or see the big picture, then I don't know that I would have the same attitude that I have now."
Through everything she has endured, Baird said she has learned many lessons along the way.
"Anybody can do what they want, as long as they try it and believe in themselves," she said. "Asking for help isn't a weakness. I'm a very independent person, and there are just some times where you don't want to ask for help. I want to say I can reach the cup from the cabinet, or I can carry my plate from the stove to the table. But sometimes I can't, sometimes it's hard and it's OK to ask for help."
Because of the reactions Baird has received from those who have heard her story, she has decided to write a book and be open to public speaking. Several people with cerebral palsy have connected with Baird, expressing gratitude for her courage.
"I've been saving all the emails because it's a gift for me, this is a gift. I had no idea, maybe because I've lived the story, but I didn't realize that people actually needed to hear it," Baird said. "There's always a light at the end of the tunnel. Just never give up on yourself, never doubt that."
Baird can be contacted by email at [email protected] or by through her website.