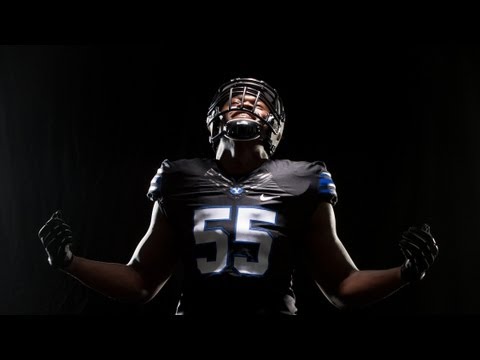 View 11 Items


I don't consider myself a real student of all the national landscape. The No. 1 thing that, to me, on a broader perspective other than football, is exposure.

—Bronco Mendenhall, BYU football coach (2010)
Nearly every football journalist in America has produced a piece on BYU's Ezekiel "Ziggy" Ansah.
They recount his upbringing, conversion to the LDS Church and improbable rise to stardom. They share the same humorous accounts of his football faux-pas and the stunning descriptions of his development as a defensive end.
But everyone's missing something big here: Ziggy's story is delivering millions of dollars in exposure value to the school, the LDS Church and its mission. He is a literal manifestation of success in BYU's play of the football card for exposure through independence.
Beam me up, Mothership
BYU fans grew to realize over the course of the 2012 football season that Ansah is strong. But they didn't know he would bear the weight of ESPN jumping on his back and riding him for hours of programming during the weeks leading up to the NFL draft.
There were numerous interviews on various shows, including SportsCenter. There was a three-minute segment on his upbringing, LDS Church conversion and improbable rise to fame. He was featured in a SportsScience segment that showcased his freakish physical traits for another three minutes.
For a full day you could have renamed the network to ASPN. Maybe ZSPN?
BYU fans relished it. Sports fans were moved by it. Bronco Mendenhall and staff were certainly pleased with it.
But the greatest benefit from Ziggy's airtime was realized a little further north of Provo.
It's all about exposure
We've all heard the E-word bandied about by BYU brass for nearly three years now. At first, it seemed like it might be focused on better football program recognition and higher-profile matchups.
But it's not a sports paradigm. Exposure for BYU means exposure for the LDS Church.
When the decision to jettison the MWC was made public, Bronco Mendenhall was quoted as saying:
"I'm supportive of (the decision to go independent) and I'm anxious to coach the team in a new situation. I don't consider myself a real student of all the national landscape. The No. 1 thing that, to me, on a broader perspective other than football, is exposure."
The underlying message is fairly clear. This is about way more than a ball and some scholarships.
It's about sharing the church's message nationally — and globally. Dick Harmon caught on early and explained what BYU was trying to cultivate in Provo. Now the world is seeing the fruit hanging on the tree.
It's a classic Boy Meets Missionaries, Boy Goes to BYU, Boy Gets World-Class Education, Boy Gets Discovered by Football Team, Boy Gets Multimillion-Dollar NFL Contract story.
How many people today know the work the church does in Africa because of Ansah? How many people now doubt their view that the LDS Church is just for white people? How many water-cooler discussions this month have been about a story of a religious and spiritual transformation that dramatically altered the course of lives?
And how many more layers are in this story, yet to be unfolded and be shared?
The LDS Church's mission and BYU's role in it was literally the biggest story in sports for an entire week. Even the depth of coverage he received became news itself, and there's a long tail on this particular narrative.
By the numbers
So can a number be put on the value Ziggy's wave of exposure has brought the school and the church?
First off, it would be foolhardy to believe ESPN would have gone to the same lengths it did to tell Ansah's story had the school and the network not had an exclusive TV agreement. The Mothership knows a call to BYU sports information can quickly result in a high-production-quality live interview from BYUtv's state-of-the-art facility.
ESPN also knows by putting the oval navy blue Y logo on the screen repeatedly it's creating demand for a brand to which it owns the media rights.
If you believe ESPN would have given the Ansah story the same airtime were BYU still playing games in anonymity on a crummy low-def network based in Colorado, Craig Thompson has a bridge to sell you in Laramie.
But again, the question: Can you put a dollar figure on this kind of exposure?
Certainly not unequivocally. But we can surmise what it would cost BYU to pay for attention like this.
Television ad rates can be confusing and complicated. So for argument's sake here, let's use some straight-line simplification.
ESPN earns about $2 billion a year in advertising revenue. Divide that by the number of minutes in a year and a single minute on ESPN costs a bit under $4,000 on average.
But that's on average. Keep in mind, there's a lot of remnant time at night where washed up bands are buying time at highly discounted rates to sell bad, over-produced albums.
During prime time, the ESPN network gets around $37,000 for each 30-second ad spot. So a minute will cost you north of $70K.
If the LDS Church wanted to buy an hour of air time during the day on the major cable network to showcase the work of its missionary program and educational institutions, it would cost somewhere between $1 million and $5 million.
It got way more than an hour from Ziggy-mania.
The value that exposure delivers to BYU, the LDS Church and its unique mission is immeasurable — it's certainly strong evidence that independence is working better than anyone at BYU could have dreamed.