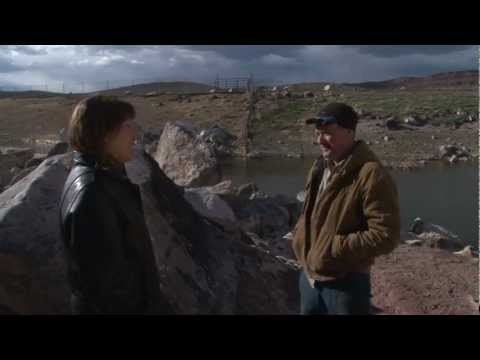 View 2 Items
Utah League of Cities and Towns

A Southern Utah waste-water treatment farm manager has been honored for his work balancing nature's ecosystem while providing a service to residents. Kim Spendlove raises 125 goats, who help clean the local water and clear weeds.
The goats wander around seven lagoons where sewage is cleaned naturally by aeration and as it filters from one pond to the next. By the time it gets to the last pond, the water has been clarified. In fact, the water is often cleaner than that flowing in the nearby Virgin River, according to Spendlove. At this point, the water is pumped through a sprinkler system to water and fertilize alfalfa and oat hay growing on the property.
The goats also keep the ground clear of weeds around the lagoons, Spendlove said.
"They grow very well on it," he said. "They eat the weeds around the lagoons anytime they grow. There are few weeds that grow here that they don't eat."
Spendlove works for the Ash Creek Special Service District near Sand Hollow Reservoir, which services residents of Toquerville, LaVerkin, Hurricane, and most of the unincorporated areas of Washington County east of I-15. They benefit from this self-contained and self-sustaining ecological balance and save money on weed control. Spendlove estimates taxpayers save $5,000-10,000 a year.
They also make money when the goats are sold.
"When we first bought them you could buy a nanny at the auction for 20 bucks," Spendlove said. "Now they're sold for $98 apiece."
Earlier this year, sales of the goats brought in $18,000. Profits from the goats offset the costs other communities face with more traditional waste-water treatment facilities.
The Water Environmental Association of Utah voted Spendlove "Operator of the Year" and awarded Ash Creek Special Services District "Best Lagoon."
ULCT is a non partisan, inter-local, government cooperative, working to strengthen the quality of municipal government and administration. The League serves as a voice for Utah's 245 cities and towns at the county, state and federal level.