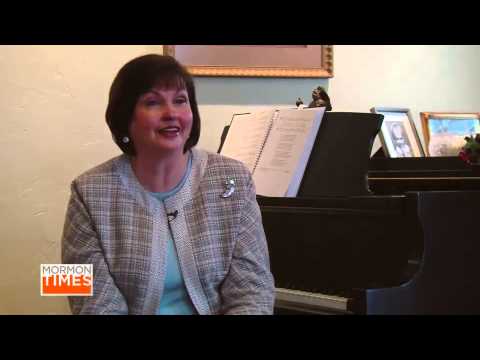 View 11 Items



On Mother's Day, "Mormon Times TV" honored the wives of the LDS Church's First Presidency. One child from each family spoke about Sister Frances Monson, Sister Kathleen Eyring and Sister Harriet Uchtdorf, telling stories and sharing important lessons they've learned from these three women.
Throughout the segments, each couple's story was told — from the day they were married to having children, grandchildren and great-grandchildren.
The story of President Thomas S. Monson and his wife, Sister Monson, was told first. The couple were married Oct. 7, 1948, in the Salt Lake Temple. Sister Ann Dibb, former counselor in the General Young Women Presidency of The Church of Jesus Christ of Latter-day Saints and daughter of President Monson and Sister Monson, spoke about the quiet love her mother exemplifies.
"She's always one to listen and to maybe just offer a few words of what she would do if she were in that same situation," Sister Dibb expressed in the video. "It was more just her constant example that became the greatest influence in my life. There was never a question as to what she believed, what she would do, what she expected others to do."
Sister Dibb explained that initially her mother struggled to have children, which was a challenge.
"She received her patriarchal blessing after she was married, and in that blessing she was assured that she would have children, and that was the only statement I think she really wanted to hear," Sister Dibb said.
The story of President Henry B. Eyring and his wife, Sister Eyring, was also briefly discussed before their son, John Eyring, spoke of his mother.
Sister Eyring studied political science and graduated from the University of California, Berkeley. She then attended summer school at Harvard University, where she met and eventually married her husband, President Eyring.
"Every interaction we ever had, she and I, I realize in retrospect, shaped my testimony," John Eyring said. "I would walk in the door from school, and she would say, 'John, sit down. I want to tell you a truth.' It would inevitably be the things I would need most in life to know."
John Eyring expressed how motherhood truly was the most important thing for his mother to accomplish.
"She is incredibly bright, very talented and could have done anything — as so many mothers could," John Eyring said. "Her sacrifice and her decision to be a mother is a result of that virtue and focus on what matters most."
President Dieter F. Uchtdorf and his wife, Sister Uchtdorf, celebrated their 50th wedding anniversary last December. Daughter Antje Evans shared how her mother's light and smile has always made everyone feel like a friend and shaped her own faith.
3
comments on this story
"My mother is a ray of sunshine," Evans said. "She's a very independent woman who has a great sense of humor. She's very witty and very wise."
Evans expressed her admiration for her mother and said coming home was like entering a safe haven.
"She has such interest in life, and in people and in places, and she just always wants to expand her mind all the time," Evans said. "She was the one that set the tone at home, especially since my father was traveling quite a bit. But that wasn't a problem for her. ... She made it look so easy, but I know it's not."