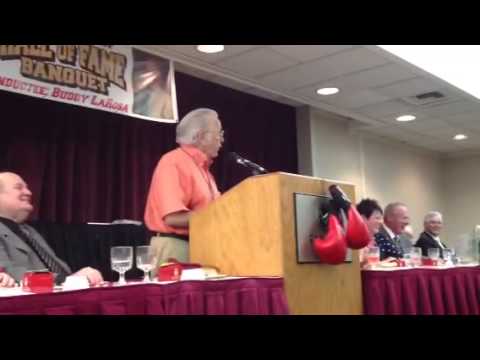 View 4 Items

I feel everybody in this room is champion. It's a wonderful, special sport. It's an art form that makes champions of us all, and we're passing that on to the wonderful institution of Golden Golves and the traditions of excellence.

—Buddy LaRosa, Hall of Fame boxer
SALT LAKE CITY – Rodrigo Rubio is still figuring out the kind of magic Golden Gloves boxing can work in his life.
As the Iowa teen converts a downtown parking lot into a make-shift boxing gym, people who've devoted their lives to the sport that's given him hope discuss the amateur organization's history, as well as it's future, at the annual Hall of Fame dinner held on the eve of the National Golden Gloves Tournament.
For the second time, that tournament that features about 300 of the best amateur boxers in the country comes to Salt Lake City's Salt Palace.
Those who coach aspiring national champions, those who officiate the bouts where history is made, and those who run the Golden Gloves organizations in 30 communities across the country honored a few of their own while extolling the virtues of a sport that doesn't see anyone willing to work as hopeless.
"One thing about boxing," said Gene Reese, who was inducted into the Officials Hall of Fame Sunday night, "you have to love it to stay in it. And I love it."
Reese officiated in 26 countries in his 50 years in the ring. He's officiated fights involving boxers who went on to win world championships, including Mike Tyson, Evander Holyfield, Roy Jones, Sugar Ray Leonard, Aaron Pryor, Ray Mercer and Riddick Bowe.
Jim Howell, who coaches and owns St. Louis Missouri's South Broadway Athletic Club, where fighters never have to pay to work out, was inducted into the Coaching Hall of Fame.
After most of the thank yous and awards had been handed out, it was time to induct Buddy LaRosa into the Golden Gloves Hall of Fame. He jogged to the podium where he talked about how a sport and the people in it gave a lost little boy a home. His father was a teamster organizer who "had more fights on the street than he had in the ring and he had 175 fights in the ring." Eventually his father was incarserated and he ended up in a foster home.
"I had six older brothers and two girls, and I felt like Cinderfella in that family many times," he said. "You had to fight, or you didn't get nothing to eat. Seems like I've been fighting my whole life."
He said he tried his best to "stay on the straight and narrow" but if it wasn't for boxing, I din't know whwere I'd be."
He said boxing helped him channel his energy, and gave him a network of support that helped make him a successful business man in his home town of Cincinnati, Ohio.
"Boxing has been my second family, and the gym has been my second home, and it's a reunion tonight," he said. "I'm so excited."
He's was thrilled to see old friends who share a passion for a sport that rather than excise those struggling with life's difficulties, it embraces them.
From the small towns of Wyoming to the gyms of New York City, boxing has given young people lessons in discipline and hard work longer than any of the people in that room have been alive.
"Boxing is a serious and a tough sport and a wonderful sport," said Golden Gloves president Ray Rodgers, who presented St. Louis' Jim Howell with the Coach of the Year award.
Utah Majority Whip Greg Hughes, R-Draper, is a former boxer who has been instrumental in luring the national tournament to Utah twice, and he said he looked forward to what Golden Gloves boxing offered sports fans.
"It's a time for our community in Utah to see what I consider some of the greatest examples of sportsmanship and athletics, and what it represents," he said. "(Boxing) is something that takes commitment. …There is a great history to this sport and a great legacy. This is the way communities stay strong and prepare generations for the future. We look forward to some great fights and great passion." The tournament begins today with weigh-ins and bouts that begin at 6 p.m. Boxers will battle for national honors all week long, culminating with the championship bouts on Saturday night. Every night new stories will unfold, history will be made.
"These are the stories are the joys of my life," said LaRosa. "They're the substance of my existing. Sure, we all want to be successful; we all want to excel at everything we do. If you want to be the best, don't worry about the money, it's going to come to you. …When I'm around folks like this, I feel like I'm home. And I'm really proud of this honor, I really am."
LaRosa said boxing was simply more than a sport, even to a man who didn't make it his career.
"The quality of hard work and respect that our coaches drum into us," he said. "I was no champion, and you might call me a chump, but whoever I was in the ring with, they knew they was in a fight because I never quit."
He cracked jokes and told war stories to an audience that understands the healing powers of the ring.
"I feel everybody in this room is champion," he said. "It's a wonderful, special sport. It's an art form that makes champions of us all, and we're passing that on to the wonderful institution of Golden Golves and the traditions of excellence."
1
comment on this story
Passing it on to people like 18-year-old Rubio, who will fight at 132 pounds representing Cedar Valley Boxing Club in Iowa on Tuesday. His father introduced him to the sport, and while he's not sure of his future in it, he's doing what LoRosa's been doing for a half dozen decades – relishing the moments offered by a magical sport.
"Life is built on our choices," said LaRosa as he concluded his remarks. "It's built on the choices we make, and those choices create our tomorrows. Each and every moment of life should be cherished."
Email: Adonaldson@deseretnews.com
Twitter: adonsports