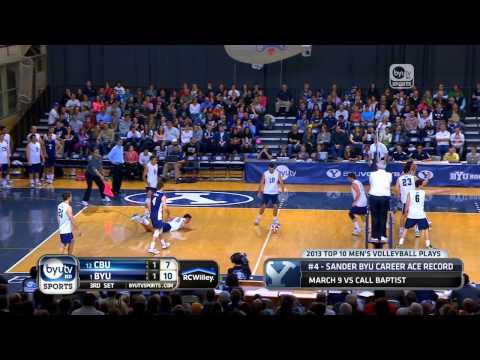 View 5 Items

We're going to be licking our wounds for a while, that's for sure. I find myself having to just leave the house at times and take long walks where I think about every single thing we could have done different in that match. I don't know how long I'll do that, but it's very tough — devastating even, when talking to the players — considering everything we put into the season.

—Chris McGown, BYU Volleyball Head Coach
PROVO — Devastated, but resolute.
That may best describe the current state of the BYU men's volleyball team just days removed from a crushing defeat in the NCAA championship to UC Irvine, according to head coach Chris McGown. With no next game to move on to until January, the coaches and players will likely stew over the loss for a long while.
The Cougars dropped the championship game in straight sets despite holding substantial leads late in each of the final two sets. The straight-set loss came as a shock to coaches, players and fans of a team that had most everything go right throughout the 2013 season.
"We're going to be licking our wounds for a while, that's for sure," McGown said. "I find myself having to just leave the house at times and take long walks where I think about every single thing we could have done different in that match. I don't know how long I'll do that, but it's very tough — devastating even, when talking to the players — considering everything we put into the season."
What the team put into the 2013 season was total and complete dedication from both a physical and emotional standpoint. Sixteen, even 18 hour days, were not uncommon for the team's head coach throughout the season.
"I don't think most fans completely understand everything we put into this team," McGown said. "For all the months of the season our whole world becomes the team. Your family time is cut to almost nothing, so being through all that to only come up short — we're reeling right now, but we'll get back there and we'll be better for having gone through everything we did."
Most of what transpired for McGown's team last season is what he describes as "magical." The team held the No. 1 national ranking for all of March and April while providing classic comeback wins against UC Irvine and against UCLA in the semifinals of the MPSF tournament.
Yes, coming up just short is stinging, but the team will grow from the experience and be that much better for it next season.
"We figured out a lot of things to make ourselves better," McGown said. "We weren't perfect, but I think we built a certain culture on this team that really benefited us. We really came together as a team, more so than in any team I've coached here, and I think the players understand that and the benefit of doing that. We obviously have some more things to figure out, but the players know what it takes and they'll be more determined than ever to complete the deal and win a championship next season."
McGown will return a lot of the key contributors next season, including national player of the year Taylor Sander.
"With Taylor, it's hard to imagine him getting better, but I know he's going to work harder than ever and will be working out with the national team all summer, so yeah, he's only going to get better," McGown said. "I was so impressed with how Taylor focused on becoming a leader, and he was someone our team rallied around. He's completely dedicated to the team and his teammates, and I think that showed with how hard he took the UC Irvine loss. We're obviously incredibly blessed to have him as part of our program."
Other starters returning for 2014 include outside hitter Josue Rivera, who really came on strong during the postseason, middle blocker Devin Young, and libero Jaylen Reyes. Backup players looked at to step up and make big contributions include outside hitter Phil Fuchs, middle blocker Michael Hatch, setter Tyler Heap and middle blocker Nick Valencia, who sat out most of the season with injury.
Key losses include setter Ryan Boyce, middle blocker Russ Lavaja and opposite Ben Patch, who will leave for an LDS mission after a remarkable year as a true freshman.
"All of those guys are going to be extremely tough to replace," McGown noted. "We have some good guys coming in and some great guys coming back, but to replace the leadership of guys like Russ and Ryan and the amazing play Ben provided won't be easy."
Overall, McGown expects to be competing again for a national championship next season and believes his players will be raring to go come January.
"The unity on this team is amazing, and I know that unity will be there again next year and may even get better because our guys now know what happens when you play for each other and not just for yourself," McGown said. "We were right there, and a few things go different in that final game and we're national champions. Our players realize that and having that experience will only benefit us for next year and hopefully for a long time at BYU."
Email: bgurney@desnews.com
Twitter: @BrandonCGurney