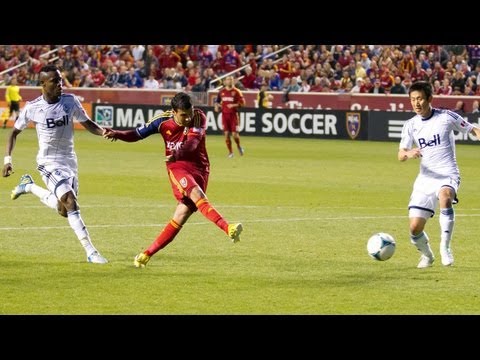 View 16 Items

We need to keep improving every week. It is not good enough. Always we want to win at home, and now that we've lost the three points at home we will have to get them away.

—Javier Morales, Real Salt Lake
SANDY — Real Salt Lake coach Jason Kreis called Saturday night's homestand-concluding match against Vancouver a "statement" game.
Seven days removed from suffering a disappointing home loss to Los Angeles, Kreis' players responded with a solid performance against the Whitecaps.
Midfielders Luis Gil and Javier Morales each scored once in the second half, and RSL emerged with a 2-0 victory over Vancouver.
"I think we should be miserable when we lose, and we should be happy when we win," said Kreis. "There's still room for improvement, and I think we need to prove if we can get results through the next two games on the road."
The first half of Saturday's matchup versus Vancouver was anything but spectacular. Although Real Salt Lake controlled the ball for the majority of the half, it lacked the meaningful possession needed to get on the scoreboard.
With Kreis opting to start Devon Sandoval and Joao Plata up top, RSL was the aggressor during the first 45 minutes, cranking out seven attempts on goal, with defender Chris Wingert, making his first appearance of the season, sending two shots into the area.
The Claret and Cobalt opened the second half with the same attacking mentality, and was rewarded with a Gil goal just two minutes into the half. RSL goalkeeper Nick Rimando created the break leading to the goal, and Plata was able to send a beautiful ball into the box for Gil to finish.
"I thank God that I'm a part of this team now, and I think that getting better with the schemes will help us come together as a team," said Plata.
Unfortunately for Gil, the midfielder had to exit the game five minutes later because of a right ankle contusion.
Vancouver responded with a high-risk, high-reward attacking mentality, but was given nothing by the RSL backline in terms of opportunities.
Meanwhile, Morales was extremely bright for RSL in the second half, with the flow of the RSL attack being facilitated through the Argentine playmaker. Multiple times after the Whitecaps turned over possession of the ball, Morales called for it in the center to start RSL's attack going the other way.
It paid off in a very tangible way when Plata slotted a beautiful pass to the feet of Morales, who stuck the ball in the back of the net for RSL's second goal.
"We need to keep improving every week," said Morales, who wasn't completely satisfied with his club's return of six points from three home games. "It is not good enough. Always we want to win at home, and now that we've lost the three points at home we will have to get them away."
RSL captain Kyle Beckerman said there were a lot of positives to take from Saturday's win, adding that there is also room for improvement.
"I think there was (things) that we could improve on, but there were a lot of positives tonight. Like before, we've just got to keep improving and keep pushing 'til the end," said Beckerman.
102 and counting: Rimando recorded his third shutout of the season, moving to within 10 shutouts of the MLS all-time record. Rimando also had an assist Saturday night to top the stellar performance.
"It feels good to get in on the attack. Today I was fortunate to play that ball to Plata," said Rimando.
The RSL backline was key in shutting down the Whitecaps' attack and made the job between the posts that much easier for the veteran 'keeper.
"When I don't have to make a lot of saves it's my best game, and if we are organized our whole team is playing defense," said Rimando."If I don't have to make a single save for the rest of the season I'll be happy."
WINGERT AND SANDOVAL GO 90: In his first match back with the first team, Wingert logged a full 90 minutes in the RSL backline. Wingert also took a couple of shots Saturday, including an attempt from more than 30 yards that sailed just over the crossbar.
Comment on this story
"I feel like every week is a big week. Things can change so much, not only within the standings, but in terms of momentum and moving forward," said Wingert. "It meant a lot to us, and we know we've got a tough challenge coming up Wednesday and Saturday."
Meanwhile, Sandoval played his first full 90 minutes at the MLS level, getting the start with leading goalscorer Alvaro Saborio (quad) out. Although Sandoval didn't have a single attempt on goal, the 21-year-old believed he improved in the second half.
"I thought the second half was better. There are still areas to improve on, so I will continue to work on that," said Sandoval.
Follow Conner on Twitter: TheConner88