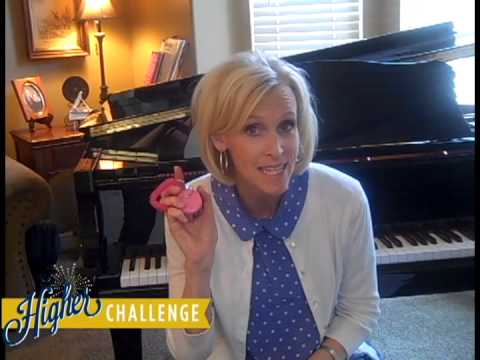 View 4 Items

Mormon singer/songwriter Hilary Weeks always runs on her treadmill with her clicker in hand.
Always.
It started when she tried an experiment. She was going to track her thoughts, specifically the negative ones. So she got a clicker and explained her experiment to family members. The following week, she turned it around and counted her positive thoughts.
That first time she got on the treadmill with the clicker in hand, the results were surprising.
"I ran further and longer than I had in 20 years," Weeks said. "Now I always run with it in my hand and my body responds positively."
Since then, she's shared her clicker experiment at Time Out for Women events across the country. A little more than a year ago, she started the website billionclicks.org and invited people to track their clicks there.
"I just love the power of positive thinking and what it can do for our lives," Weeks said.
Now Weeks, in conjunction with Deseret Book, has an invitation specifically centered around moms — for any and every woman to notice the good in others around them and to click when they do.
The goal is to have a million recorded "Click(s) for Moms" in an effort to recognize mothers.
"There is really no end to the good influence that moms have," Weeks said.
And it doesn't have to be huge, heroic things.
"Just watch for the good in each other," Weeks said. "Resist the impulse to criticize or judge and not assume the worst."
After discussing and planning this project, Weeks kept an eye out for these types of things.
"I didn't see moms doing anything you would consider heroic," Weeks said. But she saw little things that "add up to the big things to a child."
At a large store, she saw a mom nicely say to her son, "Hey buddy, put that toy back. We're not buying that today."
Click!
At another store, she saw a mother with identical red-headed triplet girls and all three of them were whining. The woman also had a daughter who was a little bit older.
Weeks carries lollipops in her bag just in case it helps someone else out. She went up to the mom and asked if she could give her young girls these lollipops.
"I've never been turned down," Weeks said with a laugh.
She ended up seeing this family again before leaving and the girls were still working on their lollipops. The mother told Weeks that the oldest girl said, "That lady has the best purse in the world."
Another click.
"We all can have a good impact on others," Weeks added.
The acts can be counted on a clicker or counter app for smartphones, or tallied in a journal or on a piece of paper.
"While we're walking through stores, we're paying attending to good influences by moms and for moms," Weeks said, adding that a father's good influence can count, too.
There will be a spot on billionclicks.org to submit them to the overall total.
To get a million in a month, it's 10 clicks a day for 3,400 women, she said. It ends up as 300 clicks for one mom for a month.
(That's a bit more feasible than the effort to get a billion clicks, which at the rate of 2 million clicks in 13 months would take about 600 years.)
Comment on this story
At the end of the month, there will be a giveaway to the woman who enters the most clicks for a clicker kit and booklet, a pair of Time Out for Women tickets and a $50 Deseret Book gift card. There will also be a random drawing among all of the women who enter clicks for a similar prize.
For those who are just starting to click, Weeks recommends doing it for at least a week to start training yourself to look for the positives.
"It's so simple and so powerful and you'll see that in your life," Weeks added.
'Click for Moms' in May
Hilary Weeks challenges us to click the goodies-about ourselves and others for all of May! Our goal: one million clicks for moms.
Email: rappleye@desnews.com Twitter: CTRappleye