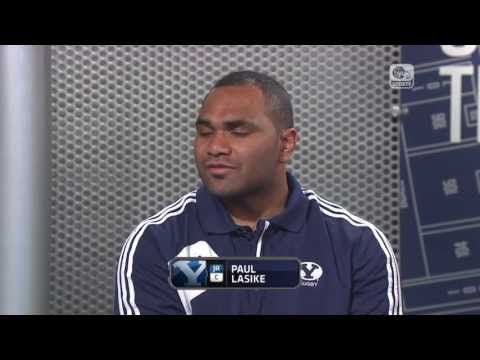 View 2 Items

You heard the crowd here. I'm hoping the place is packed and we have more fans there. The boys feed off that and emotions can play some role in a game like this, especially if it's a close game.

—David Smyth, BYU men's rugby head coach
PROVO — Saturday pits the BYU volleyball and rugby teams against schools from California to determine the national champions in both sports.
While the volleyball team will be at Pauley Pavilion in California, BYU fans have the opportunity to support the rugby team at home against rival Cal — something rugby head coach David Smyth is hoping for.
"You heard the crowd here," Smyth said. "I'm hoping the place is packed and we have more fans there. The boys feed off that and emotions can play some role in a game like this, especially if it's a close game. So we're hoping for a good turnout and fans get behind us because that can only help."
The Cougars are playing in their eighth-straight Varsity Cup and will face Cal at 1 p.m. at South Field.
The Bears pose a number of challenges, but Smyth believes his players can prevail — if they play as well as they can.
"I think we have a lot of work to do," Smyth said. "I'm confident that if we bring our A game we'll be OK. But we have some things we have to get after this week. Last week was finals and really only had Thursday to practice. We didn't have anything going Monday, Tuesday or Wednesday and we paid for that, but we'll get some good things done this week. If we address our problems from this last game then it should be a heck of a game."
A mix of youth and experience has fired up this year's squad and added a special blend of excitement and leadership. Freshman Luke Mocke of South Africa has fully embraced this concept in his first year.
"We have a lot of experience on this team. For myself, I'm only a freshman, but the experience on this team helps us stay calm under pressure when the going gets tough. For me that's the best part — to be able to play with these guys and learn from them," Mocke said.
"I believe games are won in practice. We work super hard as a team to keep our fitness up. A lot of teams late in the year will slack off on the fitness and focus on the skills. We are always on the ground and running, so I think that helps us to be able to push through in the last minutes of the game."
Jonathan Boldt is a sports writing intern for the Deseret News covering the Utah Valley. He can be reached at [email protected] and follow him on Twitter @jboldt24 - www.boldted.com