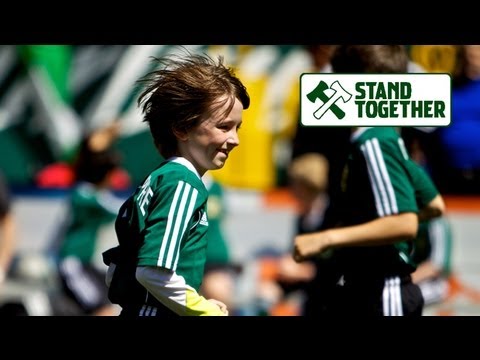 After having to miss his team's final game due to cancer treatment last seasons, 8-year-old Atticus Lane-Dupre was granted his wish to play against the Portland Timbers.
The Green Machine defeated the Timbers 10-9 on Lane-Dupre's game winning goal in front of 3,000 fans at Jeld-Wen Field in Portland, Wednesday.
Comment on this story
Lane-Dupre was diagnosed with cancer after being hit in the stomach while playing soccer during recess. After having pain for several days, further tests by doctors revealed that he had a cancerous tumor on one of his kidneys. After his kidney was removed, he had to endure several rounds of chemotherapy which forced him to miss games with his team.
Make-A-Wish Oregon says that this was the first time it has ever granted a wish involving a game against a professional sports team.
The Timbers set up a locker room for the Green Machine team members including green jerseys with each participant's name on the back. The team also made commemorative scarves for the event, and the Timbers Army, a local supporters group, provided songs and chants while the teams played.
Ryan Carreon is a web editor for DeseretNews.com. E-mail him at rcarreon@desnews.com