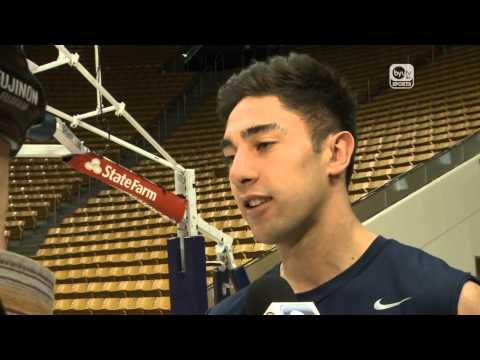 View 4 Items

They're a wonderful team and they're well-coached. They have some big, athletic guys who can hit it hard. We're not going to be as well-versed on them as we are against other teams in our conference … it's a team that has a lot of new faces, so we just told the guys that it's going to come down to fundamentals. We feel like if we're fundamentally sound that we can compete against anybody.

—Chris McGown, BYU volleyball coach
LOS ANGELES — It's hard to imagine things working out much better for the BYU men's volleyball team this season. Having captured both the Mountain Pacific Sports Federation's regular and postseason titles, the Cougars enter the NCAA Final Four as the clear favorites to win the national championship.
BYU will square off against Penn State Thursday at 9 p.m. MDT at Pauley Pavilion. The winner will advance to the national championship match against the winner of UC-Irvine and Loyola-Chicago at the same venue Saturday at 7 p.m. MDT.
Penn State advanced to the Final Four on the wings of its Eastern Intercollegiate Volleyball Association postseason title. It will be the 15th straight Final Four appearance for the Nittany Lions, while the Cougars haven't been to the Final Four since 2004.
"They're a wonderful team and they're well-coached," said BYU coach Chris McGown of Penn State. "They have some big, athletic guys who can hit it hard. We're not going to be as well-versed on them as we are against other teams in our conference … it's a team that has a lot of new faces, so we just told the guys that it's going to come down to fundamentals. We feel like if we're fundamentally sound that we can compete against anybody."
BYU is coming off a remarkable season — finding itself on top of a highly competitive MPSF conference. The Cougars met their goals by virtue of meshing into a well-rounded team that saves their best for the most critical stages of big matches.
These virtues were on full display against UCLA in the semifinals of the MPSF tournament. The Bruins came into the tournament playing with a lot of momentum and quickly built a two-set-to-none lead before BYU staged the comeback to take the critical match in five sets.
Such a performance has gone from highly unusual to completely typical in just one year's time.
"Last year we'd find ways not to win those matches and this year just a few points went our way and we'd maintain our calm and maintain our composure," McGown said. "Going through that last year and seeing it again this year, I think they just found ways to get it done. ... We're doing it together as a team."
To put forth a consistent string of clutch performances takes a complete team effort in volleyball. Entering the season McGown knew he could rely heavily on All-American Taylor Sander, but question marks abounded regarding who would fill-in at key areas and rise to the occasion.
"You have a vision of what the team will be and how guys will kind of develop along the way, but I think we've had a few surprises," McGown said. "(Michael) Hatch has surprised us in the middle of the court a little bit, (Devin Young) at the end of the season sort of surprised us and certainly Ben (Patch) was a surprise. You look at him and it's obvious that he has some physical gifts, but the way he's developed and the way he's matured … is a really, really fun surprise for us."
Patch indeed provided a breakthrough performance as a true freshman — earning him first-team All-American honors.
Other key contributions have come from players, who don't necessarily put up the big stats, but have played a vital components in the team's success. Players such as libero Jaylen Reyes and setter Ryan Boyce have played crucial roles, among others.
"We wouldn't be the team we are without guys like Jaylen (Reyes) and Ryan (Young) and those are just two of the guys who have really stepped up," Sander said. "The contributions guys like them, Devin Young, Josue (Rivera) and others have been huge for us. If guys like Jaylen aren't digging balls and if Ryan isn't getting us the ball right where we need it, then we simply can't get it done like we have. We're a complete team."
Email: bgurney@desnews.com
Twitter: @BrandonCGurney