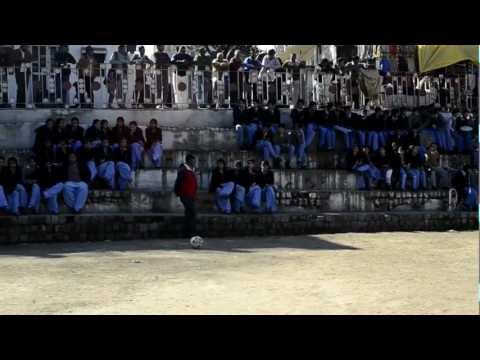 View 2 Items

The girls love it, and they are completely enthusiastic about training and competition. They are braver, more courageous, and hold themselves with more self-respect and confidence. The best indicator? The smiles. They never cease.

—Cassie Childers
Tibetans may not have a country, but they now have a national women's soccer team, coached by American Cassie Childers.
A teacher from New Jersey and lifelong soccer devotee, Childers first visited Dharamsala, India — a place where much of the Tibetan diaspora lives — as a tourist. Upon noticing there were no female soccer teams in the exiled Tibetan community, Childers worked full time to create a soccer program for Tibetan girls.
"In 2012, the first nine women's club teams were formed at Tibetan schools around India, led by coaches trained to holistically coach females and by captains who underwent a month-long empowerment camp," reads an entry on the program's blog on StartSomeGood.
"The school teams became instantly popular, with girls competing for a place on the teams. From those nine teams, the top players were selected to undergo intensive football and empowerment training in preparation for the formation of Tibet's first women's national team."
Voices of America news reports that many of the women selected for the national team were born in Tibet and had walked across the Himalayas with their parents from China to northern India, and many had also never played soccer before last year. The team played its first match in the Gyalyum Chemo Memorial Gold Cup — with 5,000 Tibetans in attendance.
"When they saw our team walk onto that ground, something shifted. You could see this is something real. This is something big," Childers told VOA.
The program has two goals: to empower all Tibetan women and field a national soccer team, "training our players to speak their truth, to tell the world about Tibet, as a tool for peace." According to their coach, it's succeeding on both fronts.
"The girls love it, and they are completely enthusiastic about training and competition," Childers told Fever Pitch. "They are braver, more courageous, and hold themselves with more self-respect and confidence. The best indicator? The smiles. They never cease."
Childers hopes to achieve full recognition for Tibet's women's team by FIFA, the international soccer accrediting body, by 2017. She estimates they will be ready for national and international competition in two to three years.
"Most importantly, we see evidence that football is effectively being used as a tool to improve their lives and empower their futures."
TWITTER: @katebennion