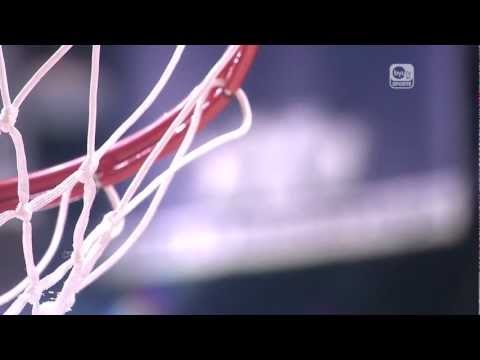 View 3 Items

I think it's awesome. Playing two sports at the collegiate level is hard to do. It will be something he will get to brag about the rest of his life, that he played college basketball and college football in the same season. To me, only the best athletes in the world could do that.

—Kyle Van Noy on Bronson Kaufusi
PROVO — Just a few days after playing in the National Invitation Tournament semifinals at historic Madison Square Garden in New York City, BYU freshman Bronson Kaufusi found himself on the field at LaVell Edwards Stadium, competing in a scrimmage on the final day of spring drills.
That's the kind of freshman year it was for the talented defensive lineman/forward.
It all began just days after Kaufusi returned home from an LDS mission to New Zealand in late July. Not long after stepping off an airplane, he strapped on his pads and a helmet and began participating in fall camp.
Not only did he become a key contributor on one of the nation's top defenses, but right after BYU's season-ending bowl victory, Kaufusi joined the Cougar basketball team as a reserve forward.
But being a dual-sport athlete is nothing new for the 6-foot-7, 260-pounder from Timpview High.
"That's how it was for me in high school. I like it," Kaufusi said on the final day of spring ball. "I really like making the transition back and forth."
Kaufusi missed most of BYU's spring practices because he was moonlighting with the Cougar basketball team. But his teammates were supportive of him switching sports for a while.
"Everyone's supportive," Kaufusi said. "They like watching me play and cheering for me. The support was great from everyone."
"I think it's awesome," said linebacker Kyle Van Noy. "Playing two sports at the collegiate level is hard to do. It will be something he will get to brag about the rest of his life, that he played college basketball and college football in the same season. To me, only the best athletes in the world could do that. Julius Peppers and Bronson are in the same category."
Some of Kaufusi's teammates and coaches good-naturedly nicknamed him "LeBronson," after Miami Heat superstar LeBron James.
"They call me that," Kaufusi said with a sheepish grin, "but I'm nowhere near LeBron."
True. He's closer to Ezekiel "Ziggy" Ansah.
While Ansah, who played on the Cougars' defensive line last season, was drafted in the first round, No. 5 overall, by the Detroit Lions in the recently completed NFL draft, Kaufusi could be a future first-round NFL draft pick as well.
So says BYU outside linebackers coach Kelly Poppinga.
"You look at Bronson, he is really fast," Poppinga said. "His edge over Ziggy would be his experience playing football. His understanding of the pass rushes and playing the game is farther along than Ziggy got when he was here at BYU. Obviously, when Bronson gets to the NFL, he'll continue to excel and learn. But that's where I think Bronson will pass Ziggy, with his experience in playing. And, he has close to the same ability. In my opinion, he'll be a first-round draft pick someday. Over time, he's going to have to earn that, but he's just as athletic as Ziggy."
As for Kaufusi's future as a basketball player?
"We'll have to wait and see," Kaufusi said. "I haven't thought much about it yet. I'm not too sure. I haven't talked to anyone. We'll see."
BYU basketball coach Dave Rose said Kaufusi's hoops career is unclear at this point.
"He's back playing football. We wish him the best and thank him for really helping us," Rose said. "It was fun having him and he was a huge part of that run we made late in the year. We'll see. I don't think we've closed the door to him playing basketball again. His football career, we'll see how that plays out. If he has as good a year on the field as everybody anticipates, basketball might not be something that he wants to spend time doing."
Last fall, after it was announced that basketball players Chris Collinsworth and Stephen Rogers had suffered career-ending injuries, Kaufusi approached Rose about joining the basketball team. Rose and BYU football coach Bronco Mendenhall discussed it, and both agreed to allow Kaufusi to try basketball.
"You have to think about your team chemistry and how he fits," Rose said. "He played in games over guys who had been on the team longer. Those can cause real problems. The fact that Bronson has the personality that he does, and that he's a local guy that our players knew and were friends with him, it was a very difficult situation that turned out to be a good fit with this group. There are a lot of guys, Division I football players, that could really help their basketball teams, but it just can't work. It's too hard."
As well as guard Tyler Haws played months after returning home from a mission, Rose said Kaufusi's season is "probably more of a surprising story than Tyler's return, because Tyler had played and knew what to expect. When he returned from his mission, Bronson was in fall camp. Then he ended up playing most of the season. It was interesting for me to watch Bronson play after he had expressed interest in coming on the team. I watched the defense from a whole different angle. Instead of following the ball, I watched where he was going."
Rose said what Kaufusi accomplished this year is an amazing feat.
"It's so unique for guys to be able to do that. You look at the hundreds of athletes that are capable of playing both sports at the Division I level, then the guys that actually get an opportunity to do that. There aren't very many. This was a unique situation. The opportunity was created for him because of two guys having career-ending injuries. He came in as the 11th or 12th guy this year. I think it would be really difficult to bring him in for the 14th or 15th spot next year."
On the football field, the Cougars are confident that Kaufusi will build on a strong freshman season.
"I expect a huge year out of him this fall," Van Noy said. "It will show. He works really hard. He deserves it."
Kaufusi insists that playing hoops helped him in football. "Playing basketball has helped me get ahead in a lot of ways," he said. "It should be OK. It helped me with footwork and conditioning-wise. It kept me trim. It was awesome."
Poppinga agrees.
"He's gained weight and it's been muscle. His body fat has gone down," Poppinga said. "He's gained about 10 pounds of lean muscle. He's moving around really well. If there's a guy that can go out and play basketball at a Division I level, then can come out and play football for you, athletically, he's a gifted kid. That's a long time to be going, from August, through football season, right into basketball season. He's going to need some rest and make sure we don't give him too many reps. But at the same time, we want to make sure he's getting better and getting the reps needed to get him ready for next season."
While Kaufusi is focusing on football now, the chance to play a game at world-famous Madison Square Garden was an unforgettable, unexpected experience.
"I never thought about playing there before. It was a surprise to me," Kaufusi said. "I learned so much during basketball season. I had great coaches and great teammates. It was great to be a part of it."