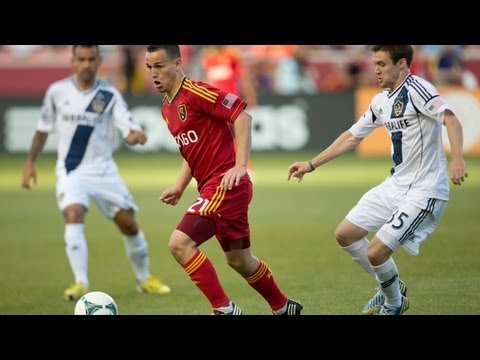 View 3 Items

SANDY — It's customary for Real Salt Lake to end Friday training sessions with shooting drills to keep everyone sharp in front of goal.
However, the simple finishing drills ultimately caused a serious lineup headache for RSL on Saturday night.
Both Alvaro Saborio and Robbie Findley injured themselves during shooting drills Friday, and neither was healthy enough to suit up against the Galaxy. Each tried to give it a go during pregame warm-ups, but both pulled themselves out fairly quickly.
Saborio has a strained quad, and Kreis said he feared it might be a fairly serious injury. Findley hyperextended his knee, but RSL was still optimistic he could play Saturday before the pregame warm-ups.
Ned Grabavoy said their absence was no excuse as to why Real Salt Lake couldn't get a result.
"If we didn't have a strong lineup for our team, I don't know what a strong lineup is. That's a good enough team to get a result against anybody," said Grabavoy.
Joao Plata and Olmes Garcia got the starting nods because of the injuries, but even though Kreis said he thought they played well, he acknowledged that Saborio's presence was noticeably missing.
"It's difficult if we don't have a target to play to in Sabo, somebody that's going to stay central the majority of the time," said Kreis, who said Garcia and Plata both played much wider than Saborio typically plays.
"Very few times we could play to a forward in a dangerous position to hold the ball up for us and get more numbers involved in the attack," said Kreis.
MR. UNLUCKY: Late in Saturday's match during frantic attacking moments for Real Salt Lake, Garcia uncorked a shot that hit the crossbar, which is actually becoming pretty commonplace. It was the fourth time the rookie banged a shot off the post or the crossbar this season.
"A little unlucky, but you've got to figure it will come for him," said Kreis.
Garcia hasn't been completely unlucky as he scored a superb goal at Vancouver a couple of weeks ago.
MAGEE TORCHES RSL AGAIN: Neither Landon Donovan nor Robbie Keane traveled with Los Angeles to Utah for this weekend's match, but it didn't really matter. Oft-forgotten striker Mike Magee proved to be a handful for Real Salt Lake to deal with in their absence.
Magee's sixth-minute header between Borchers and Beltran set the tone for the match, and was his fourth career goal against Real Salt Lake.
Donovan missed the match because of a quad injury, while Keane was dealing with an ankle injury.
Comment on this story
UNFRIENDLY CONFINES: Los Angeles' victory Saturday was the fourth-straight victory for the road team in the rivalry.
Last year the Galaxy prevailed 3-2 in their only visit to Rio Tinto Stadium, whereas RSL returned the favor with a pair of road victories at Home Depot Center.
"I don't know that you can look at the whole picture of all the games and make general statements. It's more just informational if you look at performance by performance," said Kreis, who said RSL clearly wasn't good enough Saturday.