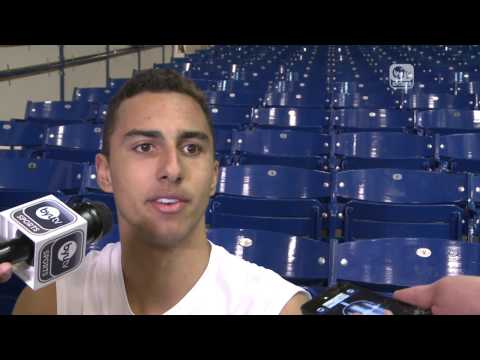 View 2 Items


PROVO — Things didn't come easy for the BYU men's volleyball team in the first round of the MPSF playoffs, and they're likely only going to get tougher Thursday night against UCLA.
The top-seeded Cougars struggled to a hard-fought five-set win over No. 8 seed Hawaii (25-19, 20-25, 22-25, 25-12, 15-13) and should have their hands full against a red-hot Bruin team that has won 10 of its last 11 matches.
"UCLA has really improved since the first time we've seen them this year," said BYU coach Chris McGown. "They're playing great volleyball right now and are really doing everything well as far as receiving the ball, passing the ball and with their ability to attack you from all over the court. They're a tough team, and we definitely saw that when we lost to them in straight sets."
UCLA handed BYU its lone loss in its last 15 regular-season matches — beating the Cougars in straight sets on April 6 at Pauley Pavilion.
"I think we learned a lot from that match and that it served as sort of a wake-up call," said senior setter Ryan Boyce. "We were going along really well, but to go down like that I think showed us that there is always work to do and you can't overlook anyone. I don't know if we were exactly looking past UCLA, but we definitely know we need to improve on how we played against them last time."
UCLA is led by Gonzalo Quiroga, who leads the team with 398 kills on the year, and Spencer Rowe, who leads the team with 107 blocks to go along with his 204 total kills.
"UCLA is very athletic and very talented like they always are," McGown observed. "They've changed some things up and, like I said, they're playing the best they have all season and they'll be tough for us on Thursday."
While it is well assumed that BYU secured a spot in the NCAA final four with its win over Hawaii, UCLA still has some work to do. The Bruins likely will not only have to get by the Cougars, but win the MPSF tournament outright to receive a bid to the tournament it will be hosting during the first weekend of May.
Home-court advantage can prove a huge advantage to any team, and with that in mind, BYU would like nothing more than to end the Bruins' season Thursday night, but it's far from the biggest motivating factor.
"We want to win the (MPSF) championship, so we're not thinking so much about getting rid of UCLA," McGown said. "It would obviously be a nice thing to not have to play UCLA in the final four, with what would ultimately be a home match for them at Pauley Pavilion, but our focus right now is winning an MPSF championship, so that's our focus going into it."
In order to reach its goal of a win over UCLA in pursuit of a postseason MPSF championship, McGown believes his team simply needs to continue doing what it does best.
"I don't think any, in particular, needs to step up, but we just need to continue being who we are," McGown said. "If we do that we'll be in great shape. I like our game plan, and we're confident in the improvements I think we've made since we played them last time."
BYU squares off against UCLA at 8 p.m. MDT at the Smith Fieldhouse. The game will be broadcast on BYUtv.
Twitter: @BrandonCGurney