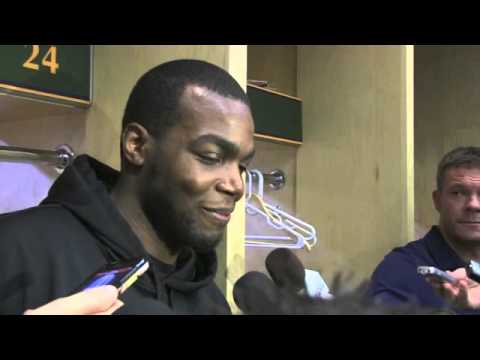 View 6 Items

SALT LAKE CITY –
Invoking a time-honored formula of coaches everywhere, Tyrone Corbin met with the media for locker cleanout Thursday, and declared the Jazz healthy. Yes, he said he was disappointed they didn't make the playoffs. Yes, he thought it was a "great group of guys." No, the slew of free agents didn't ruin the team chemistry.
And yes, he said, the team is making progress.
Even though he couldn't officially prove it by the record.
"Our experience has put us ahead," Corbin said.
"Last year we were in the playoffs and lost in the first round, but this year we finished (strong) at the end, and every game in the last 10 or 12 was like a playoff. It's wearing on you, but I think the experiences the last two years have made us better."
Better than whom?
Philadelphia, Cleveland and Detroit, to name three.
And ahead of what?
Themselves, presumably.
Thus the Jazz entered the off-season with a few dozen questions, not the least being whether they should fire Corbin. Answer: Not if the Jazz have anything to say about it.
"His status is that Ty's our coach and he has the Miller family's full support," general manager Dennis Lindsey said. "You guys know how we do it around here, and it's a blame-the-coach culture in sports. We subscribe to a little different philosophy. That's not going to pacify all of the masses of our fans, but Ty is, one, the person to lead us and, two, he's really growing as a coach."
So the Jazz are standing pat, which is the right move.
Next year at this time would be an entirely different story.
On Thursday, Doug Collins resigned as coach of the 76ers after three seasons. Cleveland fired Byron Scott after three, as well. Detroit fired Lawrence Frank after just two seasons.
Wednesday's loss to Memphis assured the Jazz of their second non-playoff season in three years. It was also (cue the "Twilight Zone" music) Corbin's third season. Asked if he is feeling pressure, Corbin said, "I put pressure on myself."
Going strictly by percentages and playoffs, the Jazz are in worse shape than last year. They have nine potential free agents, depending on whether Marvin Williams exercises his option.
With that sort of turnover, why not just change coaches while they're redecorating?
Because they haven't become Cleveland, Detroit or Philadelphia.
"He was awesome, man, nothing short of awesome," Williams said.
Realistically, "awesome" is probably an exaggeration. Winning a playoff series would have been awesome; simply making the playoffs would have been good. Percentage-wise, Corbin finished below last season (.524 to .545). Still, a 43-39 record is respectable.
Corbin toyed with lineup changes and struggled to compose his players in the final frantic minutes of games. During a four-game road swing in March, the wheels came off, costing them a playoff spot.
At the same time, by late March the coach had found a system that included expanding roles for Gordon Hayward and serious doses of Derrick Favors and Enes Kanter. He even kept veterans Paul Millsap and Al Jefferson happy. That was done with a backdrop of injuries, going 36 games without his starting point guard.
Yet the Jazz were dangerous down the stretch, winning nine of their final 12.
Bad coaches usually don't have their teams playing that hard for the eighth playoff spot.
Corbin also showed he isn't a pushover. Last spring he stared down an indignant Raja Bell, whose competitiveness clouded his reality. Bell never played this season. The coach also began going with players who were hot, regardless of minutes. He even sat Millsap the entire fourth quarter of a crucial game against Minnesota, when Favors was playing well.
That couldn't have been a Facebook friend moment for Millsap.
Yet it was a sign to both the team and fans that Corbin intends to win, regardless of personnel. Earlier in his career he tended to coach by formula, sticking with known commodities at preset times.
Meanwhile, he kept his players working fairly well together. It's not an easy task with a group largely comprised of pending free agents.
Although Corbin didn't make the playoffs, he wasn't like Collins or Scott, who combined for an overall 174-286 record in three seasons. Frank was 54-94 in two.
Corbin's 3-year mark is 87-89, but discounting his 8-20 start — the year Deron Williams left and Jerry Sloan left mid-season — he is 79-69.
So even with the Jazz facing massive player turnover, changing coaches isn't the answer. Corbin has three seasons behind him, but only one full 82-game schedule. One more season isn't too much to allow. One more chance to be awesome.
Email: [email protected]; Twitter: therockmonster; Facebook: therockmonster