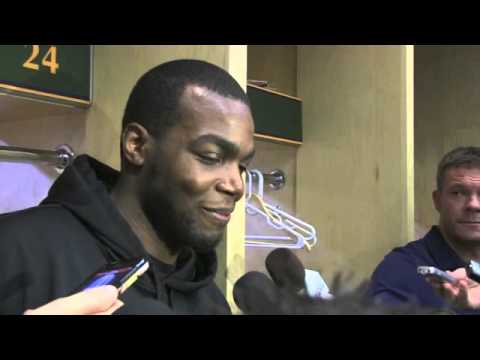 View 28 Items


The standards here are that we've been a perennial playoff team. Even though we've had a winning record … we fell short of one of our goals — namely of being in the playoffs. We subscribe to a little different philosophy. I know that's not going to pacify all of the masses and our fans, but, one, Ty's the right person to lead us.

—Dennis Lindsey, Utah Jazz general manager
SALT LAKE CITY — Around the NBA, 16 teams began preparing for the playoffs Thursday.
Meanwhile in Utah, 14 players cleaned out lockers, exchanged jokes and farewells with teammates, ate a traditional Crown Burger lunch and conducted end-of-season interviews both with media and Jazz brass.
"It's a tough day," longtime Jazz power forward Paul Millsap admitted.
For a franchise that prides itself on being a playoff regular, it should be.
For only the fifth time in the past three decades, the Jazz ended their season without making a playoff appearance.
In a powerful yet unintended symbol of the postseason void in Jazzland, even the hardwood court named after Larry H. Miller and both basketball standards had been removed from EnergySolutions Arena's surface for a rock concert.
It's an empty feeling for everybody involved with the Jazz.
"It's disappointing we didn't make the playoffs," Utah swingman Gordon Hayward said. "Obviously, that was the goal."
Jazz coach Tyrone Corbin described Utah's elimination, finalized with an 86-70 no-show in Memphis on Wednesday, as being "a little premature." It's the second early exit in the past three seasons since the organization saw the departures of Jerry Sloan and Deron Williams.
"We wanted to continue to still be playing and preparing to be ready for a playoff game today," Corbin said. "But that's not where we are."
The Jazz finished with a winning record of 43-39, but that was two games behind the 45-37 mark that earned the Lakers the final playoff spot in the Western Conference.
Instead of a playoff reward, the Jazz received the NBA's boobie prize — extra vacation time and a spot in the upcoming draft's lottery.
General manager Dennis Lindsey admitted that is a "very" disappointing outcome.
"The standards here are that we've been a perennial playoff team," Lindsey said at the end of his first season as Utah's GM. "Even though we've had a winning record … we fell short of one of our goals — namely of being in the playoffs."
Lindsey understands that his team's passionate fanbase is frustrated, and he believes it should be. This is an organization that aims to be a perennial championship-contending squad, not just one that has to rally at year's end to fight for No. 8 seed postseason scraps — let alone a lottery team.
"I expect the fans to be very disappointed," he said, "and let us know and hold us accountable and make us all work a little bit harder."
At the same time, Lindsey made it clear that disgruntled fans' #FireTy Twitter campaign — or similar messages elsewhere — isn't catching on in the front office.
While upset about an inconsistent season, which bottomed out during a 3-12 stretch last month, Utah's management remains in Corbin's corner.
Not making the playoffs isn't an acceptable long-term trend. The Jazz have no intentions of becoming Charlotte or Sacramento. But Utah brass recognizes that some peculiarities this season added to the degree of difficulty of Corbin's job — from the large amount of free agents, to Mo Williams' 32-game absence with thumb injury to the tricky balancing act of playing established veterans while developing promising young players.
"Ty's our coach and has the Miller family's full support," Lindsey said, convincingly.
He acknowledged a "blame-the-coach culture in sports," but pointed out that this organization doesn't function like that.
"We subscribe to a little different philosophy," Lindsey said. "I know that's not going to pacify all of the masses and our fans, but, one, Ty's the right person to lead us. Two, he's really growing as a coach."
Not one without faults, though.
Corbin has admitted this has been a learning process for him since he took over for Hall of Famer Sloan on the fly in 2011. Injuries and rotations were difficult to juggle. For every home win against Miami, San Antonio and Oklahoma City, the Jazz had so many more head-scratching and loss-filled road trips that proved to be the team's demise.
Live, lose and learn.
"I think," Corbin said, "the experiences that we've had the last two years will make us better down the road."
That will all soon be discussed when Corbin, 87-89 as a head coach, has a season-ending session of his own with Jazz executives.
"He's not the perfect coach. I'm not the perfect general manager. We're not the perfect organization," Lindsey said. "What we're going to do is next week we're going to get in the room together and take the gloves off and get real honest with each other about where we fell short, where we can improve and the assets that we do have — and we do have a lot of positive qualities — and hopefully over the coming weeks and months do a good job of problem-solving."
One major issue: The empty scene inside of the Jazz's arena and post-cleanout locker room almost resembles its roster.
Thursday might have been the final day up to 10 players left the building on the corner of John Stockton Boulevard and Karl Malone Drive as members of the Jazz.
The only players under contract for the 2013-14 season are Hayward, Derrick Favors, Enes Kanter, Alec Burks and Jeremy Evans. The Jazz are thrilled about their returns, but a lot of work remains to reload the locker room.
Two players have options — Marvin Williams (player) and Kevin Murphy (team). The rest will become free agents the moment the calendar strikes July 1.
That free-agent-to-be group includes four starters and key cogs: Al Jefferson, Millsap, Mo Williams and Randy Foye. Other players to soon hit the open market include fan favorite DeMarre Carroll, veteran point guards Jamaal Tinsley and Earl Watson, and late-season addition Jerel McNeal.
Lindsey's first season as general manager was relatively quiet on the personnel front. He opted to pass on making any trades, waived disgruntled guard Raja Bell in March and brought in two D-League players for short stints at the end of the season.
With between 8-10 roster spots opening up soon, this summer won't be nearly as serene.
Lindsey smiles at that prospect, calling it "a real opportunity and a real positive." The Jazz will have three picks at the June 27 draft, including their own No. 14 pick (unless they strike lottery gold), a No. 21 selection from Golden State to finish off the Deron Williams deal with the Nets and one second-rounder (No. 44 overall).
Utah also has Larry Bird rights on Big Al and Millsap, meaning the team has multiple options and greater payroll flexibility in potentially doing sign-and-trades or striking long-term deals with the veterans.
"We have a lot of options whether it's to be bold right now if that opportunity presents itself or to be really strategic and patient," Lindsey said. "So, we're real fortunate."
Lindsey wouldn't comment on specifics, offering no insight into the team's plans for Jefferson and Millsap or its vacant point guard position.
To a man, the Jazz's key players from this season expressed their appreciation for the organization and a desire to return if that works out best for both parties.
"The ball is in their court," Mo Williams said. "I think it's more so what direction they want to go."
"It's a great situation to be in if you're the Utah Jazz or you're a fan," said Jefferson, who has been with the Jazz since being traded from Minnesota in 2010. "They've got a chance to make some big moves, some big moves. I think true fans would love that — to see how their team could be rebuilt."
His feelings about his home for the past three years?
"I love the city of Utah," he said, evoking laughs and memories of Karl Malone's similar statement after The Mailman was drafted by the Jazz in 1985. "It's a great city."
Big Al laughed when Jazz PR director Jonathan Rinehart whispered "Salt Lake."
"I love the city of Salt Lake. It's a great place," he said, smiling. "I love to stay out of trouble, focus on your game, the fans, the people here, everybody here. It's like a big, happy family. I love it."
The tightness of this Jazz squad — despite its many struggles and weaknesses — made it even tougher for teammates to say goodbye so early in spring.
Even with the bitterness of not completing a goal, the Jazz felt good about winning nine of 11 games near the end of the season to fight back into the playoff hunt.
"It just would have been so easy to fold up and give up on the season. We didn't. We fought all the way to the end, all the way to the last game of the season," Jefferson said. "Even though we didn't make the playoffs, I don't think anybody here should have a reason to put their head down because we did our best — from the coaching staff all the way to the trainers."
Their coach — for now — agreed wholeheartedly.
"I can't say enough about this group of guys. I appreciate them staying focused on the race at the end and staying in there until the very last game," Corbin said. "When things weren't going well for us in that stretch, they continued to stay together and showed a lot of high character in working their way back into it and having a chance to get in at the end."
Who knows how many of them will reassemble again next fall to try to return to a more familiar and less-empty-feeling postseason spot.
"The NBA's a business. It's weird thing to think how many free agents we have," Hayward said. "The team can just change dramatically. That's why you try to enjoy all the moments with this group of guys this season. A lot I've been with for three years. You never know what's going to happen."
They do know one thing that won't happen in this arena for at least six more months.
Meaningful basketball games.