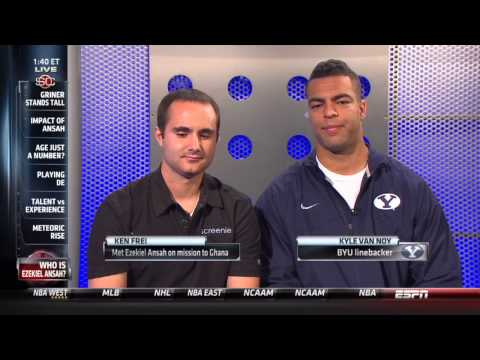 View 8 Items

Due to two-year LDS missions, male BYU athletes are often older than professional sports prospects hailing from other universities.
Scouts fear former Cougar Ezekiel Ansah may be even older.
In response to doubts as to whether Ansah is actually 23 years old, the defensive end's agency sent out copies of his passport from when he immigrated from Ghana in 2008.
Ansah's stock has skyrocketed since the end of the 2012 college football season, with the majority of draft experts pegging him to be picked among the first five selections of next week's NFL Draft.
Questions about age, however, could make NFL teams less eager to pick Ansah. The former BYU standout is widely regarded as a talented but raw project. Any added years to his age would translate to lost years for developing his game.
The report, however, states that even if Ansah were older than believed, it would not translate to a dramatically decreased opinion heading into the draft.
Ansah, 6-foot-5, 271 pounds, is a first-round prospect who could go in the top 10 of next week's NFL draft. Some scouts have stated privately that Ansah appears older than 23, but the same scouts have not indicated if it was a major stumbling block to his draft rating.
Sport Science: Ezekiel Ansah
NFL Draft Highlight Reel: Ezekiel Ansah
The NFL Draft will commence on Thursday, April 25.
Matt Petersen is the Sports Web Editor for DeseretNews.com. You can follow him on Twitter at @TheMattPetersen.