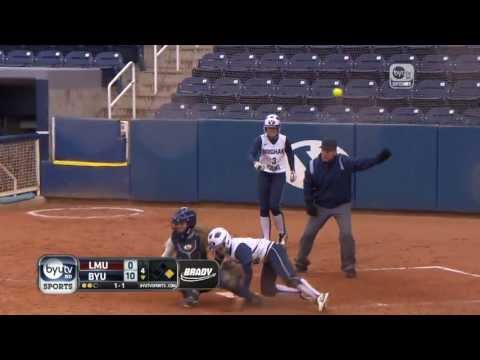 PROVO — Freshman Gordy Bravo hit an inside-the-park home run and senior Hannah Howell pitched the second perfect game in BYU softball history.
Comment on this story
Howell's perfect game was during the second game of a doubleheader against Loyola Marymount on Saturday, April 13. Howell came into the first game and pitched the last three innings of that game before going the distance in game two.
The only other perfect game in school history was pitched by Summer Tobias in 2005 against Utah Valley.
Bravo's inside-the-park home run came in the bottom of the fourth with two outs. Bravo's deep line drive barely stayed fair as the left fielder missed a diving catch. Bravo rounded the bases and barely beat the throw home. Bravo's homer drove in two runs to pad BYU's lead to 11-0.
Ryan Carreon is a web editor for DeseretNews.com. E-mail him at rcarreon@desnews.com