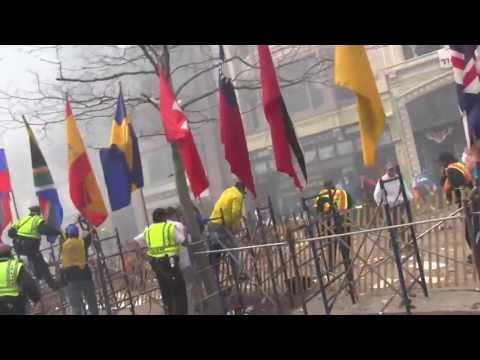 View 48 Items

We just held each other and said, 'We love this city, we love this race, we love the Boston Marathon.' I can't tell you happy and calm everyone was, just the mood, the weather was sunny, you could just feel it. It was such a good, great feeling.

—Danielle Johnson of Orem
SALT LAKE CITY — When Centerville grandmother Jolene Keate heard an explosion as she counted down the minutes to the finish line of her second Boston Marathon Monday, she experienced a rush of emotions.
"All of a sudden the runners were stopped," Keate, 61, said, her voice still shaking hours later. "I was disappointed because I was having such a great race. Then I heard it was an explosion and I was just upset about the people."
Including her husband, Jeff, who had jumped on the subway to meet his wife at the finish line after cheering her on at 'Heartbreak Hill' about 21 miles into the 26.2 mile race through the Massachusetts capitol. 
The couple found each other, and Keate said she shared the cell phone she carried with other runners anxious to connect with loved ones waiting for them near the blast site, less than three-quarters of a mile away.
Police rushed them away from the scene, she said, and she saw little of the devastation left behind. "I couldn't really see any of the damage," she said, but feared the worst for a city that had rallied "an amazing, amazing crowd" all along the race route.
There were more 354 Utahns registered for the Boston Marathon, which fielded more than 26,000 runners. Among them was Gov. Gary Herbert's oldest daughter, Kim Cahoon. 
The governor's office said Cahoon finished about an hour before the blasts and was not a witness. Herbert said in a statement issued later Monday that "as grateful as I am that my daughter is safe and was not nearby when the bombs went off, I am deeply shocked and saddened by this tragedy.
"This hits home, not only because my daughter was there, but also because many other Utahns participated in the race today," the governor said, adding that he and his wife "are appalled by what happened and offer our thoughts and prayers to the families of those who lost their lives and to the many who were injured."
The blast
Runner Cynthia Garcia of Layton was close enough to the blasts that she saw some injured men running toward her. "They were shattered and they were bloodied and their legs were black," she said. 
Garcia's voice broke as she described searching in the mayhem for her own family members, shaken and cold in her running gear, before finally spotting them on the street nearly an hour later.
"I heard some tragic things, that limbs were lost, lives were taken," she said. "I'm so grateful, and I'm sorry that other people's lives were taken and I don't want to be selfish but I am glad we are together."   
Lamar Layton of Draper said he was seated in the bleachers at the finish line with his granddaughter, who has Rett Syndrome, waiting for her parents to complete what for them was a race to raise money to help battle the rare form of autism.
"There were just a lot of runners and everybody was real excited. All of sudden, we just heard this tremendous explosion about 50 yards to the right of us and looked over and there was just this great big plume of smoke," Layton said by phone from Boston.
The second blast came from across the street, he said. "It shook the ground. As soon as that went off, everybody just started screaming and yelling and the police came and asked us to evacuate the area as quick as we could."
Layton, who later was able to reach his son and daughter-in-law via a text message, said his first thought was, " 'This can't be happening.' You know, it takes you right back to 9-11."
South Ogden painting contractor Manny Cypers said he was tired but happy after completing his first Boston Marathon in just over three hours when he met his wife and friends at a hotel near the finish line.
Then they stepped outside into a nightmare.
Chaos erupts
"We walked out there and there was just chaos. Emergency vehicles started driving in every direction," Cypers said by phone from Boston. "It was just a mass confusion. … We saw the smoke and knew there was a blast."
The group huddled together in their car and listened to the news of the explosion on the radio, learning that the hotel where they had reunited after the race, the Fairmont Copely Plaza, was now locked down.
He said with "all of the cheering and the noise" at the finish line for the runners, they couldn't hear explosions from inside the hotel. He said the blasts occurred at a time when the most runners would likely be crossing the finish line.
His first thought, Cypers said, "was just how sick some people can be. I have no idea why somebody would even do that." But he said the devastation would not keep him from running the elite race again.
"It could happen anywhere. It doesn't really help to run from it, you know? It could happen at any event we go to," he said. "I'm not quite sure what you do."
Dawn Bollinger of Cottonwood Heights was a quarter-mile from the finish line of the Boston Marathon when she and fellow runners were suddenly instructed to stop.
"We all were just standing there not knowing what was happening, not knowing why we couldn't go forward," Bollinger said. Then, she said, everyone started checking their cell phones and realized what had happened.
"There were a lot of people huddled around each other, having prayer groups and all kinds of stuff, praying for anybody that was injured," she said, describing it as "a really, really sick feeling when people got the word that people had been killed and that there had been a bomb." 
After the abrupt stop to the race, Bollinger said her body "kind of went into shock" due to a sudden drop in her body temperature.
She collapsed on the side of the course and was attended to by paramedics and volunteers. A police officer kept her in his car to help her warm up. Others fed her warm soup.
At one point, she was offered an ambulance but she refused. "I said, 'No don't call an ambulance. They need to help other people.' "
Dreams shattered
Todd McMaster finished the marathon about an hour before the explosion. Monday "was the most perfect day for a marathon you could imagine." It was the third time the Cottonwood Heights man had run the race and he had run his best time ever.
 "It sort of just makes you think, 'Wow it was nice to finish.' It was exciting," he said. "But not only were there people killed and people injured, there also were probably 10,000 runners out there who had put their hearts and soul into preparing for this internationally prestigious marathon that were not able to cross that finish line and achieve their goal. To me that's also an extremely sad thing." 
Danielle Johnson of Orem said for runners, the Boston Marathon is "Mecca. That's the marathon to do, you make it a goal, the city does such an amazing job here. I cried at the finish line for the sheer joy of how amazing the marathon is."
After crossing the finish line in just over three hours, she waited for a friend to complete the race. 
"We just held each other and said, 'We love this city, we love this race, we love the Boston Marathon,' " Johnson said. "I can't tell you happy and calm everyone was, just the mood, the weather was sunny, you could just feel it. It was such a good, great feeling."
That ended about an hour later, when Johnson heard the first explosion while on a walkway between two malls. "People were walking below you, and everyone started running, grabbing kids, sirens were going off and people were all over the place."
They were directed to go inside the mall and take cover.
"It was scary," she said. "It was just too close to home."
Contributing: Amy Donaldson, Mark Giauque, Marjorie Cortez, Dennis Romboy
E-mail: [email protected]
Twitter: dnewspolitics