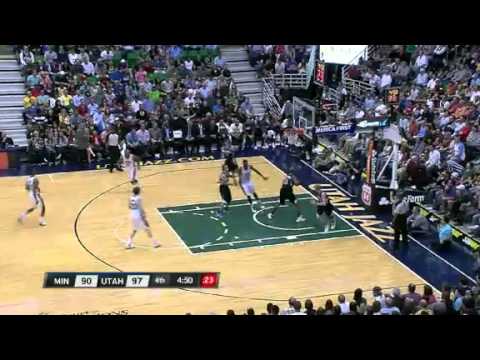 View 28 Items

I've been in that type of zone many times before, but tonight it was all about the playoffs to me. That's what I just kept telling myself, talking to myself, saying, 'We've got to do it. We've got to start now. It starts with me. Not only on the offensive end, but on the defensive end, too.

—Al Jefferson, Utah Jazz center
SALT LAKE CITY — Prior to receiving a rousing ovation by a crowd that might never see him play in a Utah uniform in person again, Al Jefferson had an ongoing conversation with a Jazz player Friday night.
Big Al was yakking to keep the player pumped up.
Big Al was pep-talking to keep the player going at a high level in a game with veritable importance to his team's playoff hopes.
On a night his opponent couldn't stop him from scoring, Big Al literally couldn't keep from talking to one particular Jazz player.
Himself.
Some self-chatter proved to be a panacea for Jefferson, who sparked the Jazz to a much-needed 107-100 victory over the oh-so-pesky Minnesota Timberwolves with a huge performance at EnergySolutions Arena.
Jefferson's final line of 40 points, 13 rebounds and six assists, which helped the Jazz (42-38) keep pace with the also victorious Lakers (43-37), was certainly worth talking about.
And not just by Big Al to Big Al.
"I've been in that type of zone many times before, but tonight it was all about the playoffs to me," Jefferson said. "That's what I just kept telling myself, talking to myself, saying, 'We've got to do it. We've got to start now. It starts with me. Not only on the offensive end, but on the defensive end, too.'
"That's what I kept telling myself tonight," he added, "and it just worked for me."
Worked great for the Jazz, too.
Jefferson hit a go-ahead bucket with 3:35 remaining to end an 8-0 T-Wolves' surge and give the Jazz a 99-98 lead.
Big Al then hit the game's biggest bucket with 39.3 seconds remaining, but not until after he freaked out the nervous crowd of 19,609 by losing his dribble before picking the basketball up and tossing it in just in time to beat the shot clock.
It's possible Big Al told himself that was a fortunate and fantastic shot.
"He carried us," Jazz coach Tyrone Corbin said.
"He was dominant," Jazz swingman Gordon Hayward added.
"Take that, Lakers!" Big Al told himself.
OK, Big Al didn't really tell himself that, but on this night he could have.
One thing Jefferson said he wasn't focusing on was the fact that this could have been his finale in Utah as a Jazz player. He's one of nine (possibly 10) players on the current roster who will enter the free-agent market this summer.
After hitting 19 of 27 shots — and just 2 of 2 free throws — Jefferson said the only thing he's got on his mind is trying to win these remaining Jazz games.
"I'm not thinking that far ahead, man," Jefferson said. "I'm just really satisfied that we gave our fans a win for the last home game this season in a win that we most definitely needed to continue our journey and just try to make the playoffs."
He's not ready for an end to this season, which continues Monday in Minnesota.
"As far as that last time maybe in a Jazz uniform, all that stuff, I'm not even worrying about that right now," Jefferson added. "I'm going to try to make it last all the way to June, the end of June."
The Jazz had a tougher game than most would have expected against Jefferson's old team.
J.J. Barea led the feisty T-Wolves with 23 points, and the diminutive 6-footer seemed to take temporary residence inside of Jazz players' heads in the fourth quarter.
First, Barea lured Favors into a flagrant foul when he put his shoulder and elbow in the Jazz big man's midsection while he turned around to head downcourt. Not surprisingly, Barea plopped onto the hardwood and Favors was called for a flagrant foul.
That sequence gave momentum to Minnesota. Barea hit two free throws and Ricky Rubio drilled consecutive 3-pointers to put the T-Wolves up 98-97.
"I don't think (Favors) did it on purpose, but it happens sometimes in basketball," Barea said. "They called it and it was two free throws for us, so it helped us get back in it, but they did a good job finishing the game."
To nobody's surprise, Jefferson came to the Jazz's rescue.
Big Al put Utah back up with 3:35 remaining and then — after a scoreless three minutes — he made the biggest shot of the night with 39.3 left.
Mo Williams then clinched the game with six free throws in the final 19.3 seconds.
Williams and Randy Foye, another ex-Minnesota player, each scored 16 points, including a 5-for-7 outing for Foye in 3-point land.
The Jazz shot a blistering 58.3 percent — to Minnesota's 46.2 percent — but simply couldn't shake the Timberwolves, who took a seven-point advantage in the third quarter before Utah turned it on.
"It seemed like the ball was bouncing their way a little bit and they were getting back doors and knocking down jump shots," Hayward said. "They're still a good team no matter what their record says. When guys get going, they're going to knock down shots, and that's what they did there for a little bit.
"But," he added, "we fed Big Al, and he carried us."
JAZZ NOTES: Jefferson scored 19 points in the third quarter, which is a team-high for points in a quarter by one player. … Incidentally, Utah held Minnesota to 19 points in the pivotal fourth quarter. … Former Jazzman Andrei Kirilenko scored eight points with three rebounds and three assists in his second game back in Utah since signing with Minnesota as a free agent this summer. He played his first 10 NBA seasons with the Jazz. … Forty points tied Jefferson's career-high, but this was the first time he'd reached the mark since 2008.
EMAIL: jody@desnews.com
TWITTER: DJJazzyJody