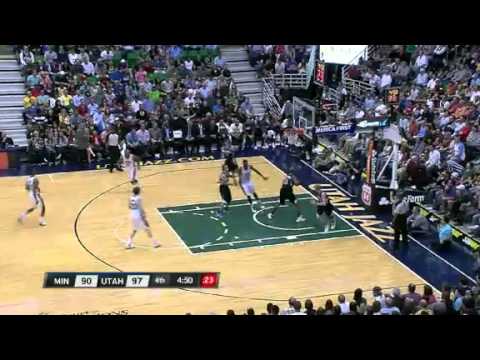 View 28 Items

SALT LAKE CITY — This month the State of Utah is encouraging citizens to prepare for natural disasters. Among the advertised themes: In case of an earthquake, "Drop! Cover! Hold On!"
Weird.
That's exactly what the Jazz are doing.
Friday at EnergySolutions Arena, they held off Minnesota, 107-100, but not before blowing a nine-point lead, then overcoming a seven-point second-half deficit. They moved up by seven with five minutes remaining but trailed by a point 1½ minutes later.
It was truly a natural disaster in the making. Only a career-high 40-point performance by Al Jefferson and 58 percent shooting kept it from happening.
With two games left, and the playoff picture still unresolved, the Jazz's mandate is to win out. Monday they play the Timberwolves again, though this time it's in Minneapolis. Asked if the Jazz can play with the same energy they did late on Friday, coach Tyrone Corbin said, "We'll see on Monday. Hope so. Hope we come out with a sense of urgency and are ready to play."
It will take more than hope if the Jazz expect to win the next one. Beating the non-playoff Timberwolves in Salt Lake is one thing, beating them in the Great Frozen North is a different matter. When is the last time the Jazz were favored on the road, anyway?
The Jazz's poor paint defense — excepting the ever-diligent Derrick Favors — again showed a reluctance to keep opponents from strolling to the rim. Mostly on Friday it seemed both teams had joined Welcome Wagon. There were several high-profile dunks, which should look good on the highlight films. Not so impressive was the defense by either side.
Now the Jazz only have games at Minnesota and Memphis. Because the Lakers play their final two at home, but the Jazz are on the road, the prospects grabbing the final playoff spot remain iffy. The Lakers' final two opponents are San Antonio and Houston. That's not an easy assignment, either. So for the Jazz it's a simple deal.
Change their history at the end of the season.
Considering Utah's road legacy, those prospects aren't great. Last year they won just 11 away games, this year 12. That isn't unusual. Utah didn't win half its road games for the first 20 years of existence. There was a seven-year run where the Jazz were above .500 on the road, but since 2001 they have had just one winning road season (2009-10).
Fast forward to 2013 and they still look like Jack Lemmon and Sandy Dennis in "The Out of Towners" — just a couple of confused travelers facing problem after problem on the road.
The Jazz's 17-game disparity between home and road wins is second largest in the NBA, behind only Denver. In the Nuggets' case, though, that's not so bad because they are 36-3 at home.
So there the Jazz sit, hoping for some road karma.
How likely is that to happen? They should beat Minnesota, but it clearly didn't look like a done deal on Friday. Memphis on Wednesday is a far bigger worry.
The Jazz's playoff fortunes could even end up hinging on getting help from some unlikely sources. First, there's Kobe Bryant. The Lakers star has been monstrous lately, and the Jazz can only hope at some point he gives up his dream of another championship. Unless injured, he can still make things uncomfortable.
Comment on this story
Then there's problematic San Antonio coach Gregg Popovich. He too could hold some Jazz cards. Will he rest his stars and let the Lakers beat them on Sunday, or pull out all the stops to win the conference title? In that sense, he too could have a hand in the Jazz's fortunes. Sit a guy here, send someone home there, and it's more angst for the Jazz if the Lakers beat the Spurs.
For the moment, though, the Jazz did what they needed. It certainly wasn't an artsy effort. Eighteen turnovers saw to that. At varying times they looked unsure, scared, worried, confident and relieved.
Clearly they don't have the luxury of resting on Friday's win. Better they should practice their disaster drills. The big one could hit at any moment.
Email: rock@desnews.com; Twitter: therockmonster; Facebook: therockmonster