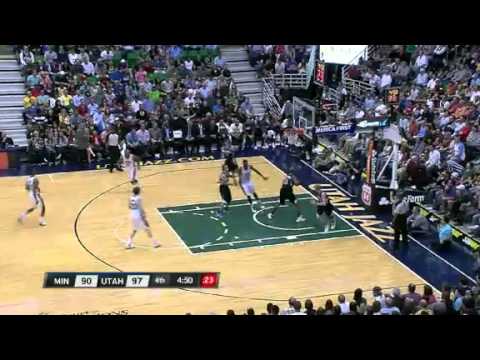 View 29 Items

Man, I thought the playoffs started 20 games ago. But you wouldn't want it no other way, man. You dream as a kid to play in the playoffs and to be on that big stage, and you wouldn't want it no other way.

—Randy Foye, Utah Jazz guard
SALT LAKE CITY — On Friday night at raucous EnergySolutions Arena, it felt like the Western Conference playoffs had begun a week early. Sure, the Utah Jazz were facing a Minnesota Timberwolves team that had long since been eliminated from postseason play.
But in throw-their-records-out-the-window fashion, this game had the type of intensity, physicality, emotion-charged crowd and tremendous tension down the stretch that is usually reserved for the NBA playoffs.
It even got chippy in the final, frantic few minutes as Jazz power forward Derrick Favors leveled tenacious Minnesota mini-guard J.J. Barea with 4:49 remaining, drawing a flagrant foul for Favors and a riotous outcry by the 19,609 fans in attendance.
Finally, it took an impressive 40-point performance by Utah center Al Jefferson, a couple of key 3-pointers by shooting guard Randy Foye and six free throws in the last 19 seconds by point guard Mo Williams for the Jazz to prevail, 107-100, and keep their playoff candle burning.
"Man, I thought the playoffs started 20 games ago," Foye said with a laugh. "But you wouldn't want it no other way, man. You dream as a kid to play in the playoffs and to be on that big stage, and you wouldn't want it no other way.
"It's been like this — I'm not gonna lie to you — it's been like this for like at least the last 10 games, where every game we walk into the arena saying, 'We can't lose.' You know, not saying it, but you can just tell from looking at someone in the eye who you've been around the whole year, or just looking at the body language and you just know from the time they step on that bus at the hotel, headphones on and focused straight away.
"The last number of games, before we even get to the arena, you can see guys are so locked in and so focused on what they have to do that it's amazing," said Foye, who finished with 16 points, thanks to some superb 5-of-7 shooting from beyond the arc. "You know the situation, you know what you've got to do. You've got to win games; you know you can't afford to lose games. You know you've got to go out there every night and give it everything you have. And if you do that, you'll be in good shape."
This one, though, was far from easy. The Jazz fell behind by seven points in the third period, and the very real possibility of a damaging, devastating home-court defeat loomed until the last half-minute.
Jefferson was in his best refuse-to-lose mode, scoring 29 of his career-best-tying 40 points in the second half, including 19 in the third quarter alone and 10 more in the fourth.
2
comments on this story
He hit a career-high 19 shots from the field, including a critical bucket with 39.3 seconds left that dropped in just before the shot-clock buzzer sounded, giving Utah a 101-98 lead.
For good measure, he also had 13 rebounds and six assists, a career high.
"I was just trying to keep telling myself to take my shots; don't try to step outside my box, don't try to do too much," Big Al said. "So I just wanted to take the shots that I normally would take and do the things that I normally do. Fortunately for me tonight, they was going in.
"Like I always said, the playoffs started a month ago for us. Every game is like that."
EMAIL: rhollis@desnews.com