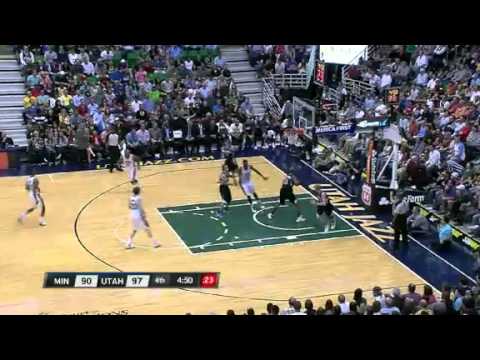 View 28 Items

SALT LAKE CITY — For the last few weeks, the Utah Jazz have been thrust right in the middle of a classic do-or-die dogfight for a berth in this year's NBA playoffs.
So you'd think that, when asked what this challenging experience has been like, Jazz players might use words like stressful, nerve-wracking, hectic, difficult or maybe even downright awful.
But on Friday, as they prepared to play their final regular-season home game of the 2012-13 season, the word Utah's players used far more than any other was, simply … fun.
Yep, this is what it's all about — playing meaningful games at the end of the season, with something important hanging in the balance. In this case, it's the eighth and final spot in the Western Conference playoffs.
"It's been fun," swingman Gordon Hayward said of his team's grinding postseason showdown against the Los Angeles Lakers, who entered the weekend one game ahead of Utah in the playoff chase and have been getting stellar late-season leadership from veteran superstar Kobe Bryant.
"This is what you play for, to be in a situation like this where there's some pressure on the line and the games are competitive. So it's been fun."
Shooting guard Randy Foye repeatedly used the same word — fun — to describe what he and his teammates having been going through.
"This is fun, man, this is definitely fun," he said. "Kobe's playing out of his mind, he's playing all 48 minutes, and I feel as though the past 10 games we have been playing out of our minds.
"We lost a couple, but we fixed our struggle woes of losing on the road. We beat Portland up there when we were down 10, we beat a good team, a playoff team, in Golden State, and we just been rolling at home.
"So, I think, this goes down in history as one of the best finishes to the end of the season in the Western Conference," Foye said. "When you're in a race like this, just put it like this, every step matters — the takeoff, the middle part of the race and the finish. I feel from at the beginning we were so-so, we picked it up, we got some injuries towards the middle, and … towards the end, I think the finish has been one of the best. So I just think that every step counts, and if you lose, it hurts more. If you win, you really don't think about it, you're just on to the next one, but if you lose, it kinda stings a little bit more."
Utah big man Al Jefferson agreed with that assessment. Oh, and he didn't hesitate to use the word "fun," either.
"We know how important these last three games is, but it's really kinda fun to be competing all the way to the end," he said. "If you're a competitor and really care about the game, this is fun for you.
"It also can be a little stressful sometimes, especially watching another team (the Lakers) and have them be the one to control what happen to you, but for the most part, it's fun. We're just taking it as a sign of respect that we put ourself in this position to have a chance to fight for a playoff. So we're just taking advantage of it.
"At the end of the day, it's all fun," Jefferson continued. "We're just glad to be in this position."
Speaking of fun, Jefferson, Foye, Hayward and Co. had a little bit more of it Friday night when they turned back the ever-pesky Minnesota Timberwolves 107-100 at EnergySolutions Arena. They'll face the T-wolves again on Monday night in Minnesota.
And, to paraphrase that old Beach Boys song, it'll be fun, fun, fun 'til the Lakers take the playoffs away.
YOUNG GUNS: Hayward and 6-foot-10 power forward Derrick Favors are two members of Utah's young "Core Four" that also includes combo guard Alec Burks and center Enes Kanter.
Hayward and Favors, both finishing up their third seasons in the league, have developed a good on-court chemistry in their two years together in Utah. Hayward said it's probably because they both have similar soft-spoken personalities and the same solid work ethic.
"He's easy to play with, you know, especially defensively, where he does a great job and that leads us to transition (baskets)," Hayward said. "On pick and rolls, he does a great job of finishing, and I think he can only get better and better.
"He's a quiet guy, he doesn't say too much, but he's a worker and a competitor, and I'm the same type of way. So we kind of bonded like that and I think if we put the work in, we can be pretty special."
THE SIXTH MAN: Hayward was very complimentary of Utah's home-court crowd this season, giving them much of the credit for how much better the Jazz record is at EnergySolutions Arena (30-11) compared with away from home (12-27).
"They've been tremendous," he said of the perpetually vocal Jazz fans. "You can look at our record and it shows that.
"For whatever reason, we haven't played well on the road, but we've played really well at home, and they're a big part of what we do."
EMAIL: rhollis@desnews.com