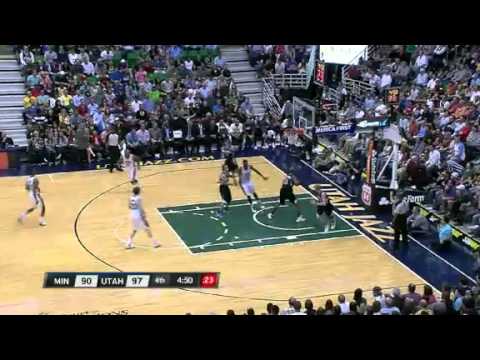 View 28 Items

The Jazz defeated the Timberwolves 107-100 Friday night to stay in the race for the playoffs.
Utah trailed Minnesota for most of the third quarter, but behind a very strong performance by Al Jefferson, Utah regained the lead in the fourth quarter, Al Jefferson hit a big push shot in the lane with 39 seconds remaining to get the Jazz up by three, and Utah made enough free throws down the stretch to win their final home game of the year.
Jefferson was monstrous in the second half. By games end, Jefferson had 40 points on 19-for-27 shooting with 13 rebounds and six assists. Three other Jazzmen scored in double figures Friday: Randy Foye with 16 points, Mo Williams with 16 and Paul Millsap with 10 points.
Minnesota was led by JJ Barea, who scored 19 of his 23 points in the first half. He also was involved in an altercation with Derrick Favors in the final three minutes that spurred an 8-0 Minnesota run in the final five minutes.
Full game story: Big night for Big Al leads to a big-but-close win over T-Wolves
Brad Rock: Utah Jazz still in prevention mode
Instant Analysis: Big Al wills team to win
Randy Hollis: Friday's intense duel felt as if playoffs started a week early
Timberwolves: J.J. Barea is public enemy No. 1 for a night in Salt Lake City
Notebook: Late-season playoff run has been fun for players
1
comment on this story
Six Timberwolves scored in double figures. Besides Barea, Chase Budinger had 12, Ricky Rubio had 13, Derrick Williams had 11 and Greg Stiesma as well as Luke Ridnour each contributed 10 points. Former Jazz man Andrei Kirilenko scored eight points for the Timberwolves.
This game was a must win for the Jazz, which at the beginning of the night were a game behind Los Angeles for the 8th and final playoff seed. Los Angeles played the Golden State Warriors Friday as well.
With only three games remaining on Utah's schedule this regular season, it must at least finish tied with the Los Angeles Lakers in order to qualify as the Western Conference No. 8 seed.
Follow the Deseret News on Twitter, @DesNewsSports, and on Facebook at facebook.com/desnewssports