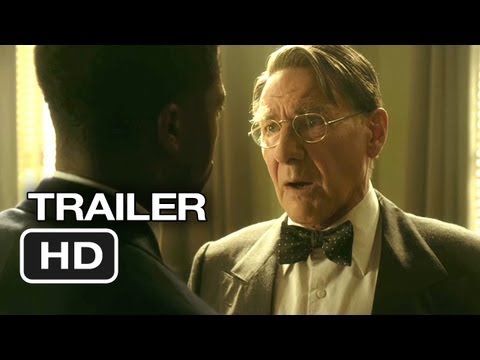 View 7 Items

Minutes before the first pitch of a 1947 baseball game pitting the hometown Reds against the Brooklyn Dodgers, a father and his pre-teen son are sitting hip-to-hip in the stands of Cincinnati's Crosley Field. They breezily chat about how many runs Dodger shortstop Pee Wee Reese could score that day.
Then Jackie Robinson steps onto the field.
Robinson, the Brooklyn rookie still only weeks removed from becoming the first African-American to integrate Major League Baseball in the modern era, is a walking target for racism. Seemingly the entire Crosley Field crowd suddenly rises up to begin pelting him with racial epithets. The elder half of the father-and-son duo is no exception, abruptly morphing from jocular father to viperous heckler.
"(N-word) go home!" the dad screams. "You don't belong here, boy."
The son initially appears confused by his father's vitriol. But before long even the boy joins the chorus of ignorance; even he hurls the n-word at Robinson.
This jarring scene from the new movie "42" portrays the film's overarching effort to educate a wide swath of Americans — reminding adults that society is only a handful of decades removed from ubiquitous racism, while also showing children what racism actually looked like in the mid-20th century. Specifically, "42" breaks down Robinson's triumph into palatable messages that include the power of family in his life through his closeknit marriage to Rachel Robinson, and the foundational faith of Brooklyn Dodgers general manager Branch Rickey.
Jackie and Rachel
In "42" (the film's title refers to Robinson's jersey number), the plot begins in 1945 as Branch Rickey pontificates to his assistant that he wants to bring a black player to the big leagues. An exhaustive search for the best baseball players in the Negro Leagues yields Jack Roosevelt "Jackie" Robinson, shortstop for the Kansas City Monarchs. In addition to his obvious physical talent, Robinson appeals to Rickey for his leadership qualities (Robinson was an officer in the U.S. Army during World War II) and experience competing alongside white athletes (he lettered in four sports at UCLA — baseball, football, basketball and track & field).
"Picking the right person was very important," said Erik Strohl, a baseball historian and the senior director of exhibitions and collections at the Baseball Hall of Fame. "Branch Rickey knew he needed a player who was not just accomplished on the field … but he had to have the courage and passion to not fight back and to be an example — to be able to withstand everything he was going to be subjected to."
Actor Chadwick Boseman portrays Robinson in "42" as a man who is both tenacious and world-weary. The main character is savvy enough to recognize the adversity he'll invite into his life by becoming a Brooklyn Dodger, but once he commits to the course of action, Robinson exhibits such steely resolve as to quash any question of whether he'll see the journey through to completion.
Yet for all of Robinson's strength and character, the movie makes it abundantly clear that his triumph over adversity wasn't only his accomplishment — it was every bit his wife Rachel's doing, as well. For example, the first thing Robinson does after his initial meeting with Rickey in August 1945 is phone home to Pasadena, Calif., to propose marriage to Rachel. And at numerous critical plot junctures, a soul-searching conversation with Rachel (played in the film by Nicole Beharie) is the only thing that can calm Jackie's soul. "You're in my heart," he tells her on several occasions.
Although Jackie Robinson died more than three decades ago — he passed away in 1972 following a heart attack — Rachel Robinson remains healthy and active at age 90. An interesting footnote in the making of "42" is that cast and crew frequently consulted her at various stages of production. For instance, Boseman "sought insight into (Jackie) Robinson's personality and emotions" by meeting multiple times with Rachel Robinson, according to a recent Reuters article.
"The best way to say it is you're seeing a piece of the puzzle — (Jackie and Rachel) are a complete puzzle together," Boseman told Reuters. "I could see the edges of who he is from who she is."
Faith played a part
Because Branch Rickey's legacy is equal parts faith and business savvy, bringing Rickey back to life for "42" wasn't going to be any simple undertaking. But with the aid of some "performance-enhancing" makeup that affixed a pair of truly unruly eyebrows onto his face, Harrison Ford conjured Rickey's essence in such convincing fashion that the actor will likely get serious Oscar consideration when awards season ramps up later this year.
In almost every scene of "42" in which Rickey is present, the bushy-browed and bow-tied baseball executive quotes from the Bible or earnestly refers to God's omniscience and benevolence. During one memorable exchange, Rickey sounds like a fire-and-brimstone preacher when he warns the general manager of the Philadelphia Phillies that the Phillies will incur God's anger if they refuse to play a Dodger squad because it includes Jackie Robinson. History indicates such a depiction is based in fact: Rickey was a devout Methodist, and the Library of Congress' "Branch Rickey papers" collection states, "Many of Rickey's speeches reflect his religious beliefs."
There is necessarily some ambiguity in the way "42" depicts Rickey: He did a very noble thing by hiring Jackie Robinson, and religious belief was an overtly foundational element of his character. But at the same time, the film acknowledges faith was probably not the primary catalyst for Rickey wanting to racially integrate Major League Baseball.
1
comment on this story
"Because Robinson's breakthrough came in the United States of America, it's also a tale complicated by its sense of keen economic opportunity: you know, money," Dana Jennings recently wrote in the New York Times. "And '42' doesn't shy from that fact. Mr. Ford's Rickey says, 'Dollars aren't black and white,' and the Dodger manager Leo Durocher, played by Christopher Meloni, states, 'We're playing for money here, Mr. Rickey.' "
The movie "42" is rated PG-13 for "thematic elements, including language." The film necessarily includes a significant amount of derogatory racial language, but the rest of its content is not unsuitable for children.
Jamshid Ghazi Askar is a graduate of BYU's J. Reuben Clark Law School and member of the Utah State Bar. Contact him at jaskar@desnews.com or 801-236-6051.