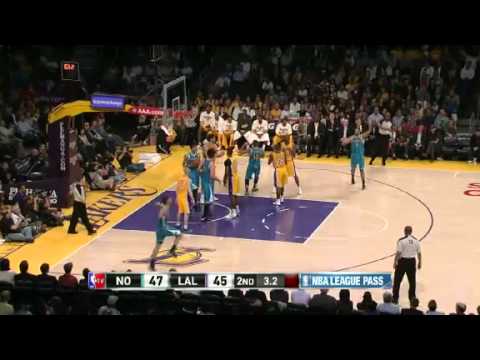 View 11 Items

With the post-season around the corner, playoff hopes in the balance, and a red-hot Utah Jazz team fighting them neck-and-neck, every remaining season game is a playoff game for the Los Angeles Lakers.
The Lakers entered Tuesday's game trailing the Utah Jazz by a half game for the final playoff spot in the Western Conference and in desperate need of a win. The Lakers' need was answered as they snatched a win from the New Orleans Hornets, 104-96.
Metta World Peace was the center of attention coming in to the game, with his remarkable return from the knee surgery he underwent just 12 days ago. World Peace played 15 minutes and knocked down a three-pointer.
The Lakers victory followed a well-fought battle as both teams managed to capitalize on certain aspects of the gamel.
Post-presence: While Dwight Howard is obviously the dominant player in the paint, it was Pau Gasol who helped the Lakers manage a level of consistency. The Lakers were effective in getting the ball to Gasol in the post, allowing him to make plays either with his scoring ability or his passing ability.
Gasol started off attacking the basket and did so extremely effectively, notching 22 points. Once the defense began to focus on him with double-teams, Gasol (four assists) would find his teammates for easy buckets.
Benefiting from Gasol's outstanding passing, were Dwight Howard (19 points), and Antawn Jamison (13 points). When the defense would suck in on Gasol, he found cutting teammates for points in the paint.
Rebounding: Hornets rookie Anthony Davis really had a nose for the ball, which allowed the New Orleans to keep the game close. He had a game-high 14 boards which set up both fast-break points and second-chance buckets. Davis also made it difficult for the NBA's rebounding leader, Dwight Howard, to attack the glass; Howard managed a mere six boards.
Fourth quarter: The fourth quarter was completely and utterly owned by Kobe Bryant, who dropped 23 of his 30 points in the fourth quarter. The entire Hornets team had 26 in the fourth.
With Tuesday's win against the Hornets and the Utah Jazz losing to the Oklahoma City Thunder, the Lakers recaptured the eighth seed in the Western Conference and lead the Jazz by a half game.
The Lakers, who haven't won both games of a back-to-back situation this entire season, are back in action Wednesday night in Portland to see if they can break that streak.
For additional NBA and Lakers news/updates, you can follow Mitch Kunzler on Twitter at: @MitchKunzler