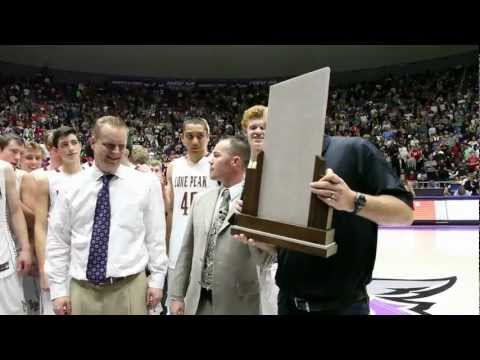 View 3 Items

HIGHLAND — Shortly after his team won the 5A boys basketball state championship last month, Lone Peak coach Quincy Lewis was asked if he believed the Knights were the best team in the country. Without hesitation he said "yes."
On Monday, MaxPreps agreed with Lewis' claim.
MaxPreps released its final Xcellent 25 basketball rankings for the 2012-2013 season on Monday, and sitting atop the rankings are the Lone Peak Knights. The team also ended the season No. 1 in the MaxPreps computerized Freeman rankings.
Lone Peak finished the year with a 26-1 record, which included blowout victories across the country. Germantown, Wisc., ended the year ranked No. 2 with a 28-0 record, while Simeon, Ill., (Chicago) finished third with a 30-3 record.
"We had a pretty good idea that it would happen, but it's nice to have it there in print," said Lone Peak coach Quincy Lewis.
Lone Peak's only loss of the season was against Montverde Academy, Fla., which ended the year as the top-ranked team in the USA Today Super 25 rankings. Lone Peak finished the year fourth in the Super 25 rankings, but had the No. 1 ranking according to the USA Today computer rankings.
Led by a trio of future BYU Cougars, Lone Peak averaged 72.8 points this season en route to its third straight 5A state title. It only allowed 46.4 ppg, for a staggering average margin of victory of 26.4 points.
On its way to the MaxPreps national title, Lone Peak beat teams from Illinois, Nevada, Colorado, Mississippi, Pennsylvania, Tennessee, North Carolina and California.
Lewis said he was never surprised to see his team win all those games, "but I am a little surprised the margin of victory we won most of them at."
Lone Peak went 18-0 against Utah teams.
Senior point guard Nick Emery was named the Deseret News Mr. Basketball recipient after averaging 17.9 points, 3.7 rebounds, 3.7 assists and 2.9 steals. Junior T.J. Haws was named the 5A MVP averaging 17.1 points, 4.6 assists and 3.4 rebounds.
Eric Mika and Talon Shumway were named Deseret News first teamers, while fellow starter Conner Toolson was named a second teamer.
Expectations were sky high for Lone Peak from the beginning of the season, and Lewis said his players handled the increased attention well all year.
"I thought our guys really handled it well. You could just see them on the floor smiling and having fun and playing the game," said Lewis.
Having just wrapped up his 10th season as Lone Peak's head coach, Lewis said he takes pride knowing Lone Peak helped high school basketball in Utah get the recognition it deserved.
"I've grown up in the state, my dad was a long-time coach at Provo and Timpview. I've grown up watching high school basketball in the state. I've always felt it was undervalued from a national landscape, so to speak," said Lewis.
That's definitely not the case anymore thanks to Lone Peak.