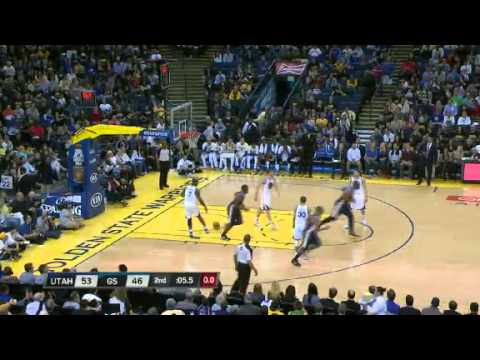 View 4 Items

Knowing that their competition for the final playoff berth in the Western Conference fell earlier in the day placed even more importance on what was already a crucial game Sunday night. The Utah Jazz came through, making clutch plays down the stretch to earn a hard-fought 97-90 win over the Golden State Warriors.
In one of the gutsiest performances of the season, the Jazz scrapped, hustled, rebounded, dished and scored their way to a memorable victory. Facing a much-improved, 44-32 Warriors team that is tough at home was daunting, but Utah came ready to play and with very few lapses, maintained a winning energy for most of the outing.
True Team Effort: It may sound cliche, but almost every Jazz player that saw the court made integral contributions in the big win. The heavy hitters came through and the role players stepped up — exactly the type of things that must occur for a team playing for its playoff life.
Mo Williams and Al Jefferson, who have both been big the past two weeks, continued that trend. Williams netted 25 points and doled out five assists. No shot was bigger than his dagger 3-pointer with 14 seconds remaining, giving Utah a six-point lead. Jefferson had a Jefferson-like game with 19 points and 12 rebounds, while handing out five assists of his own.
Terrific third-year men Gordon Hayward and Derrick Favors were solid. Hayward had 13 points and six assists, while hitting some timely treys of his own. Favors was a monster defensively while having quite a solid night on offense, as well. He had 12 points, 13 rebounds and three blocks.
Paul Millsap (5-13) and Randy Foye (3-11) did not shoot well, but had their imprint on the outcome. And last but not least, Jamaal Tinsley and DeMarre Carroll's stat lines do not stick out, but their grittiness and crafty plays were huge, as were Tinsley's two big 3-pointers.
Credit Corbin: Jazz head coach Tyrone Corbin has sometimes been the lightning rod for criticism during Utah's woes this season, so he rightfully deserves a lot of the credit for Sunday's game. A few tactical moves stood out. Making the offensive-defensive substitutions with Jefferson and Favors was the right thing to do, with Favors' swat in the final minute being the result. Likewise, mixing and matching on defense versus the Warriors' hot-shooting, dangerous guard corps of Stephen Curry, Klay Thompson and Jarrett Jack was smart coaching.
Odds and Ends:
1
comment on this story
• Utah outdid the Warriors in an area that they excel in: long-distance shooting. While Golden State hit 7 of 17 (41.7 percent) from 3-point range, the Jazz connected on 11 of 25 (44 percent). Four players hit two or more treys.
• The Jazz did not shoot free throws until 31 minutes into the game.
• Golden State's Andrew Bogut and Harrison Barnes, who average a combined 15.7 points per game, tallied just six points.
• Outlandish stat of the night: Curry had nine points just 4:30 into the game. Had he maintained that rate, Wilt Chamberlain's 100-point record could have been in jeopardy.
David Smith provides instant analysis for Deseret News' Utah Jazz coverage. He works for LDS Philanthropies and also blogs for the Utah Jazz 360 website. He can be reached at mechakucha1@gmail.com or on Twitter at davidjsmith1232.