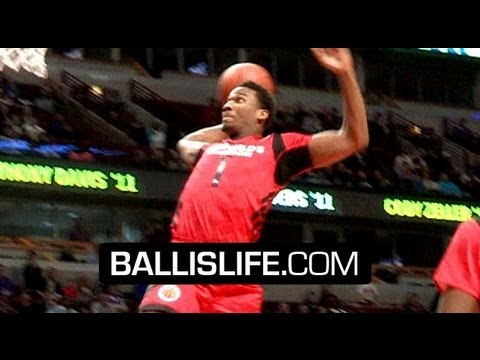 View 2 Items

Duke prospect Jabari Parker scored 10 points and eight rebounds as the West defeated the East 110-99 in the McDonald's All-American Game in Chicago on Wednesday.
Arizona commit Aaron Gordon was named the game's MVP, leading all scorers with 24 points, including nine dunks. He also had eight rebounds.
Parker, who is widely considered to be the top high school recruit in the country, is a Chicago native and led Simeon Career Academy to four state championships and is the only player to be named Illinois Mr. Basketball twice.
"It was like homecoming for me. To see everybody out there, we can celebrate," Parker said.
Former Bulls player and Duke All-American Jay Williams said that Parker's performance Wednesday proves he will be a successful college player at Duke.
"He can be a scorer and coach K (Mike Krzyzewski) will need to replace those points," Williams said. "I think Jabari Parker can blaze his own path."
Ryan Carreon is a Web editor for DeseretNews.com. E-mail him at rcarreon@desnews.com