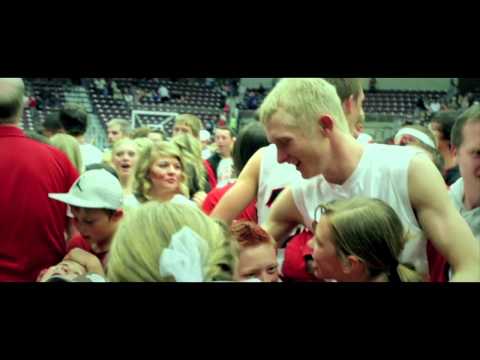 View 7 Items

Race is in here because a) he deserves it, and b) The community got behind him...They know who Race is and what he stands for. To go through that 16-player tournament-style Facebook vote for the 3-point contest and be able to win that, it speaks volumes for the kind of guy that Race is.

—Scott Hunt, South Sevier boys basketball head coach
MONROE — Everything seems extremely ordinary and perhaps even a bit dull in the halls of South Sevier High School. A small school, South Sevier is definitely not where one would expect to find one of the greatest basketball players in Utah high school history.
Yet, South Sevier is home to Race Parsons, a 6-4, 175-pound shooting guard whose career is unrivaled in Utah over the last 20 years.
The Southern Utah University commit's senior season was among the most impressive ever from a Utah high school player. He averaged 27 points, 8.8 rebounds, 2.8 assists, and 2 steals per game, all while shooting a staggering 45 percent from beyond the arc. Opposing teams watched helplessly as Parsons canned 3-pointer, after 3-pointer — he averaged nearly 3.5 3-pointers per game.
Parsons also holds numerous Utah high school basketball records and accolades. He is fifth on Utah's all-time scoring list (2,097 points); fifth on Utah's all-time rebounding list (824 rebounds) — a feat not even 7-foot former NBA great Shawn Bradley accomplished — fourth on Utah's all-time 3-point shot list (234 3-pointers made); a two-time 2A MVP, and a two-time 2A Utah state basketball champion.
Now Parsons is taking his game to a national stage. He was voted by fans through Facebook to compete in the American Family Insurance 3-Point contest that will take place on Saturday in Atlanta at the NCAA Final Four tournament.
Parsons competed against 16 players across the country in a vote for the wildcard spot in the contest that will take place on Saturday at noon MDT, and will air on CBS. The town of Monroe, the community and Parsons' family and friends all rallied behind him to get the word out and vote him into the contest — and he was chosen. He said the support he received from the community was tremendous.
"I wasn't expecting much, but I noticed that the further I went into it, and the further I made it, the more involved the community got, and the more involved people everywhere got," Parsons said. "It was really an eye-opener to me that if a small community wants to support a kid, or wants the best for someone, then they will do whatever it takes to get them there."
Parsons' selection to the contest is a testament and a compliment to his record-setting career and impressive skill set — one that frustrated opposing coaches and inspired his community.
"He was just a hard matchup," Richfield head coach Rand Janes said, "You put a smaller, quicker kid on him, he can go down and post him up, and take advantage of his size. If you put a taller, slower guy on him, he could step back outside and hurt you that way. ... We just tried to slow him down as best as we could, and every once in a while it would be effective, but most of the time it wouldn't."
Parsons regularly scored 30 to 40 points in high school competition, and as he did so he began approaching South Sevier's scoring records. The records were something that the Parsons family never really contemplated.
"We didn't ever really think about it beforehand, and we were very careful that it was never talked about around Race, because we didn't want to jinx him," Race's mother Kim Parsons said. "We didn't want him to feel like he always needed to score, I mean, he had to score in order for us to win, but we didn't want him worrying about records or anything like that."
Nevertheless, midway through his senior season, he broke South Sevier High School's all-time scoring record during a game held at Canyon View High School. The previous record was set by his grandfather, Lynn Parsons, and stood for 48 years.
"To tell you the truth, I didn't even know about it," Parsons said. "After the game, I had a certain amount of points, and coach said, 'Congratulations!' I said 'For what?' and he said, 'You just broke our high school record.' It was exciting, and in the moment it was kind of cool, but I was more excited to rub it in to my grandpa. When I did, I said, 'Hey guess what?' and he knew it too, because he broke into a smile."
Parsons' game evolved throughout his career. By the time he reached his senior season, he could score at will. It was normal for Parsons to pull up from 30 feet back and knock down the deep three. No matter what defense was thrown his way, he found ways to put the ball in the hole.
"He's got range, I mean, he can step back five, six, 10 feet behind the arc and still knock it down," South Sevier head coach Scott Hunt said. "They have to come out, respect him and guard him."
"You had to guard him as soon as he crossed the half-court line," Janes said. "He could shoot from anywhere, and he was effective from anywhere."
"He had the green light," Hunt said. "And even with the 30-footers, some of those I questioned, but you know, he made a good percentage of those."
Whether Parsons' Jimmer-esque range will translate into victory in this weekend's competition is as yet unknown. The SUU commit will be competing against Kansas, Memphis, Michigan, Iowa State and New Mexico commits, and some of his opponents are ranked in ESPN's Top 50.
Regardless, Hunt said Parsons is definitely deserving of the opportunity.
"Being involved in this 3-point contest is a phenomenal feat," Hunt said. "They have seven of the best shooters in the country, and Race as a wildcard. Race is in here because a) he deserves it, and b) the community got behind him.
"And I think that speaks to the kind of young man that Race is, because if he was some arrogant, cocky kid, then the community wouldn't back him like it has. They know who Race is and what he stands for. To go through that 16-player tournament-style Facebook vote for the 3-point contest and be able to win that, it speaks volumes for the kind of guy that Race is."
Parsons said he is extraordinarily grateful for the confidence the community has in his ability to represent Southern Utah well.
"I can't thank those people enough for voting and showing their support for me," he said. "If I could write every single person a thank-you card, I would."
Mitch Kunzler is a contributor to Deseret News high school coverage. Twitter: @MitchKunzler
Are you interested in contributing to Deseret News high school coverage? Email Landon Hemsley at [email protected]