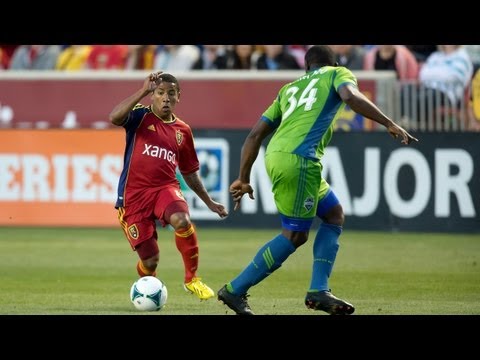 View 40 Items

SANDY — A year later, Real Salt Lake finally figured out a way to break down the Seattle Sounders' defense.
After being held scoreless in four straight games against Seattle last season — including twice in the playoffs — RSL scored a pair of goals in the first half Saturday night at Rio Tinto Stadium on its way to a 2-1 victory over Seattle in front of a sell-out crowd of 20,359.
Jason Kreis said it was exactly the start he was looking for.
"We talked a couple days ago, we talked again yesterday and we talked before the match about how I'm really looking for improvement about how we're starting our games, especially at home," said Kreis. "I think tonight we saw that when we do that and get a very positive beginning to matches that it will often lead to good things at the end of matches and good results."
The victory snapped a three-match winless slide for Real Salt Lake, which improved to 2-2-1 with the victory.
"We just wanted these three points. We knew we were back home and playing against a team we've struggled with in the past. Getting up two goals early was great for us," said defender Nat Borchers.
As important as scoring in the eighth and 35th minutes were, so too was who made the scores. Through four games prior to Saturday night, RSL had only scored three goals, and Alvaro Saborio had accounted for all three. He wasn't in uniform on Saturday though, which had many questioning where the goals would come from.
It turns out Saborio isn't the only Real Salt Lake player who can score.
It took RSL just eight minutes to break down Seattle's defense as Robbie Findley tapped home a rebounded shot past Seattle keeper Michael Gspurning after a fortuitous clearance by Seattle bounced off RSL's Devon Sandoval and straight to Findley.
Findley's initial close-range shot was saved by Gspurning, but he had just enough space to tap in the rebound with his left toe.
Unfortunately for Findley, he strained his groin on the goal, and was subbed off after five minutes.
Afterward, he said it was definitely a fair trade.
"It was just a matter of time really. Just tried to stay positive. I was getting the opportunities. Eventually one of them was going to fall for me, it was a good thing it was tonight," said Findley.
The goal snapped a streak of 408 scoreless minutes for RSL against Seattle dating to May 2012.
Real Salt Lake built on the momentum from the early goal and continued to pepper Seattle's defense. Incredibly, the "almost-always worthless" short corner in the 35th minute helped RSL double the advantage.
Instead of just whipping a corner kick into the box, Sebastian Velasquez knocked it directly to Ned Grabavoy, who was unmarked on the endline with the post about 12 yards behind him. Grabavoy chipped the ball back into the danger area with his first touch, and Luis Gil was in perfect position to head the ball just inside the far post.
The Sounders, who eliminated Real Salt Lake from the playoffs last season, were fortunate to only be down 2-0 at the half after some crazy saves by Gspurning.
His breakaway save on Joao Plata — who came on for Findley — in first half stoppage time was huge. In the 55th minute, he denied Plata again, this time with his face.
It should've been an easy finish for Plata, but the wasted opportunity gave Seattle life.
Two minutes later, the Sounders scored in the 57th minute as Brad Evans banged a 15-yard shot off the right post following a knock-down pass from Mauro Rosales in the box.
Real Salt Lake got an emotional lift in the 62nd minute as Javier Morales made his 2013 debut coming on for Gil. Morales had a chance to score on a breakaway shortly after coming on, but he was knocked down in the box, and appeals for a PK were ignored as the ref waived for Morales to get up.
"That wasn't a dive for sure, I didn't see him. I was watching the goalie to see where I wanted to finish it, and it was like a train coming from behind, and killed me," said Morales.
After the match, Kreis raved about the work of his midfielders all game, a big reason RSL outshot Seattle 25-8, and 10-4 with shots on target.
Real Salt Lake looks to build on the momentum next Saturday when it travels to Colorado.