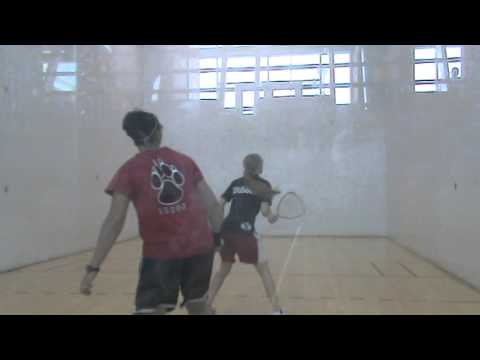 View 8 Items



Every single one of them played and won all of the close games. It was an amazing run. They did extremely well, probably better than any team I have had as a player or a coach.

—BYU racquetball head coach Paul Snyder
PROVO — There is another sports team at Brigham Young University that is gaining national attention: the racquetball team.
The BYU racquetball team traveled to Arizona State University last weekend with its top six male and female players to compete against 50 other teams and 350 players for the chance at national titles in the 2013 USA Racquetball National Collegiate Championships.
Cole Burr, Lincoln Cluff, Patrick Harris, Braden Hess, Bryson Renouard and Brian Zundel made up the top six for the BYU men's team. Eliza Blank, Amy Collyer, Mary Culverwell, Kristin Hatch, Lisa Kuttler and Jaleen Rogers made up the women's team. Paige Bryson also attended the event, participating in a special skills division that did not contribute to team points.
"Last year, we missed third place overall by only two points, so this year it was all about taking care of business," said senior Bryson Renouard. "We wanted to take home a trophy, so everyone just needed to perform."
The team has traveled across Utah, Idaho and Arizona to compete in tournaments against other universities and colleges in preparation for the national championship. The team also toned up with diet and fitness conditioning, holding practices three times a week for two hours.
"We practice three times a week from 6-8; I lifted in the off-days," Renouard said. "I played pretty much every day and we had tournaments almost every week."
Players are ranked based on tournament wins during the regular season and then placed against others with their same rank in the national tournament, which is divided into four classifications: gold, blue, red and white.
Players are then seeded within their brackets by how they perform in their first two matches. If a player wins the first and second match, the player is placed into the gold bracket. Those who win their first and lose their second match play in the blue bracket; those who lose the first but win the second match play in the red bracket, and those who lose both their opening matches play in the white bracket.
Each player on the team participates in a singles tournament, as well as a doubles tournament with another member of the team.
The hard work and dedication paid off for the men's team, which had every player participate in the gold bracket in both singles and doubles. In the singles tournament, each player from the men's team placed third overall in his respective division.
"I was really excited for this tournament," said BYU racquetball head coach Paul Snyder. "We had a fantastic team, and I knew they would do really well if they worked hard."
In the doubles tournament, all the teams competed in the gold division of their brackets. The No. 1 seeded team, Burr/Zyndel, placed third overall; the No. 2 seeded team, Harris/Hess, placed third overall; while the No. 3 seeded team, Cluff/Renouard, took second overall in their respective brackets.
"We just went in there and got business done. Every close match that we had we won," Renouard said.
The women's team found success as well in its competitions. In the singles tournament, No. 1 seeded Eliza Blank placed second in the blue division of her bracket. The No. 2 seeded Rodgers placed fourth; the third seeded Mary Culverwell placed third; the fourth seeded Collyer placed third; and the fifth seeded Hatch was named a national champion in the gold tournament of their respective brackets.
The women's doubles teams all participated in the gold division of their brackets, with the No. 4 seeded team of Blank/Culverwell placing fourth; No. 3 seeded Rogers/Collyer placing third; and the No. 1 seeded team of Hatch/Kuttler claiming a national championship title in their bracket.
Overall, the BYU men's racquetball team placed second, the women's team placed third. Combined, the Cougars placed second overall with 2,061 points. Oregon State University claimed the top overall spot at the tournament with 3,115 points.
"We took home a lot of hardware this year. It was fun," Snyder said.
In addition to their trophies and medals, every member of the team that participated last weekend now have All-American status. For some members of the team, this is not the first time they've achieved this honor.
"Every single one of them played and won all of the close games. It was an amazing run," Snyder said. "They did extremely well, probably better than any team I have had as a player or a coach."
For students interested in joining the team, Snyder believes that any type of athlete can join and become a great racquetball player.
"Fortunately, we are a great developmental program — players are just good athletes and we turn them into great racquetball players," Snyder said.
"I never competed until three years ago, and in three years I became an All-American," Renouard said. "We have a couple of tennis players, basketball players, soccer players; they're quick and have great legs."
Tryouts for the team start at the end of September and last into the beginning of October. Those interested in the BYU racquetball program can find more information posted on its website. Videos of the teams' performance can be found on the BYU racquetball YouTube channel.
"It's a great experience," Snyder said. "The racquetball program has the most national champions of any other program. It is fun to be a part of something like that."
Email: [email protected]