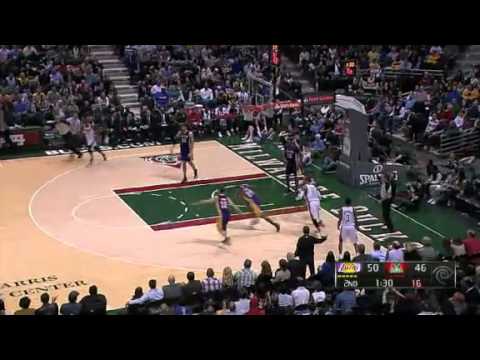 View 3 Items

We have four road games left. If we don't get at least two of those, I feel like it's going to be very difficult. At this point, I still feel like if we take care of our own business, we can get that eighth spot.

—Mo Williams, Utah Jazz point guard
PORTLAND, Ore. — Tyrone Corbin has a number in mind when it comes to how many wins he believes his Utah Jazz need to clinch the Western Conference's final playoff spot.
Good luck trying to get him to tell you what it is, though.
Hint: It's somewhere between 1-10.
"We have somewhat of a number," he admitted. "Hopefully, 10 in a row."
That's how many games the Jazz have remaining in the 2012-13 regular season.
If they do win out — unlikely as that is, mind you — the Jazz would indeed make the playoffs.
They got some help Thursday night from the Bucks, who beat the Lakers, trimming No. 8 L.A.'s lead to a half game.
Utah, however, has the tiebreaker with Los Angeles, having beaten Kobe & Crew two out of three times. Both teams have 36 losses. The Jazz, by the way, also own a tiebreaker advantage over Dallas.
While it's tempting — and irresistible — for the Jazz to pay attention to what's going on elsewhere, they also know that their postseason possibilities will require a strong end to the season.
Winning two games in a row — even if they were at home against subpar squads — was a good start.
"The thing that we can control is how we play," Corbin said. "And that's what we want to concentrate more on."
Small forward Marvin Williams was a bit more willing to put a number out there than his coach.
Well, sort of.
The Jazz are well aware of their road struggles this season, having lost an incredible nine games in a row away from the Beehive State.
Those road woes, including the tough 0-3 Texas trip and that painful 0-4 Eastern journey two weeks ago, have dropped the Jazz's away record to a lottery team-like 10-27.
Utah hasn't won on the road since beating Minnesota 97-93 before the All-Star break.
The Jazz's current road slump is their worst in more than three decades when they lost 17 straight from Nov. 21, 1981 to Feb. 6, 1982.
With all that in mind, Williams divulged one number he believes is critical to the Jazz's playoff chances.
Two.
"We have four road games left. If we don't get at least two of those, I feel like it's going to be very difficult," Williams said. "At this point, I still feel like if we take care of our own business, we can get that eighth spot."
After tonight's game at the Rose Garden, the Jazz have four straight home dates, including Saturday's showdown with Deron Williams and his red-hot Brooklyn Nets.
Utah visits Golden State after the homestand and then wraps up the season on the road in Minnesota and Memphis.
As far as the Jazz are concerned, challenge accepted.
"I love our chances. I love our chances," Corbin said, repeating himself. "I love this group of guys. I think they work hard to give ourselves a chance, and I'm excited."
Corbin said the Jazz can't waste any energy worrying about their recent skid in which they lost 11 of 14 games.
And all of those road losses?
Ancient history.
"You can't look around the corner at what could've, should've, would've been," Corbin said. "We are where we are, so let's make the most of where we are now."
Jefferson has been in playoff mode for a week or so now. And he remembers how the Jazz went on a season-ending six-game winning streak to make the playoffs 12 months ago.
"Just like last year, every game counted," he said. "It worked out for us last year. Hopefully, we can keep playing hard and keep winning games."
"We're right there. We're close," Jazz small forward Gordon Hayward added. "We've got to try to take care of each and every game. I think if we win out, we should be all right. We've got to focus each game one game at a time."
Corbin smiled while thinking about the pressure-packed schedule ahead of the Jazz.
"You've got to love it. If you're a competitor, you've got to love this time," he said. "You've got an opportunity, and that's the thing that you have to thrive on.
"You're in the fight. Every game counts. Every possession is huge," he continued. "You have a chance to play as well as you need to win games and see what happens. Competitors love these times."
Corbin also loves how the contenders and pretenders distinguish themselves during March Madness action.
"You're 72 games into the season. … Mentally, you're a little drained. Physically, you're a little drained. But we're in the fight," he said. "This is where you figure out what guys are made of. While everybody's tired and beat up, who can fight their way through it and still perform?
"This team has shown a lot of resilience all year and we expect it to continue."
EMAIL: jody@desnews.com
TWITTER: DJJazzyJody