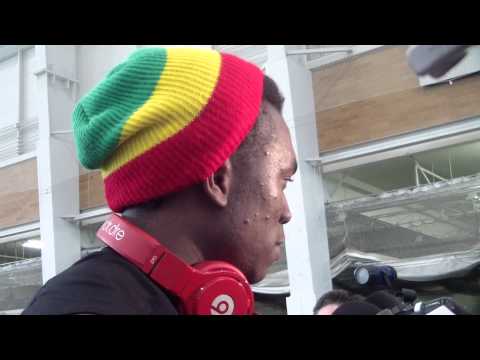 View 4 Items


PROVO — Ziggy Ansah and Star Lotulelei were rivals in college and roommates at the NFL scouting combine in Indianapolis, but their story doesn't end there. Now that the NFL draft is approaching, there's a chance they could be paired side-by-side, or close to it, when their names are called next month.
For the first time in history, BYU and Utah would each have a first-round pick in the same draft.
"Both players have some questions, but their talent is so good," said one scout, who asked not to be identified.
The scout said neither is a "clean prospect," meaning no question marks, but "no doubt they're top-10 talent."
He continued, "Two different paths — and not your everyday path."
Not your every-year path, either.
BYU held its Pro Day on Thursday, where scouts from 24 teams showed up to time, test, cajole and critique. BYU's Ansah did only position drills, having clocked a 4.63 in the 40 at the NFL combine in February.
No need to mess with a good glamour shot.
Ansah's story truly is strange. He came to BYU as an LDS convert from Ghana, hoping to play college basketball. It didn't work out. Then he competed in track, where his style was better suited to roller hockey.
That's when he showed up at the football offices, willing but unpolished. He had to be instructed on putting on his shoulder pads. Since then, his rise has NFL scouts going ziggy about the prospects. His size and athleticism at the defensive edge make him a potentially high choice when his name is called on April 25.
Meanwhile, Utah's Lotulelei, a defensive tackle, was projected as high as No. 1 until an abnormality on a heart test muddied the waters. It kept him from testing at the NFL combine in February.
Though still a premium consideration, his status has been high, then dipped, then returned to top-10 territory.
"Ziggy's thing is that he just ascended from the first game until now; he just keeps getting better with every step," the scout said. "You knew about Star, you always knew when he came to Utah. He wasn't a surprise. You knew what you were getting with him."
What the draft is getting with Ansah is a player as pure as raw honey — and nearly as unrefined. With Lotulelei, there's power and agility, but also the worry of risking millions on a player with health concerns, despite recent tests showing otherwise.
Lotulelei has been compared to All-Pro Haloti Ngata. Some experts think Ansah could be in a class by himself. The bad part? Ansah has been studying at BYU longer than he's been studying football.
The NFL is a tough place to learn on the fly.
So which is the better prospect?
"Ziggy's probably going to go higher than Star, which is funny because he's kind of the unknown; kind of the flavor-of-the-day type thing," said the scout, who was at Pro Day for both schools.
"I think with Ziggy, you could really hit a home run. He could be a home run, out-of-the-park guy. Star, in baseball terms, is a solid in-the-gap double, standing up. Not gonna slide. He's solid. Is he going to hit a home run? He may always be a double, but that's not bad. But Ziggy could be a grand slam … or a foul ball or a strikeout, I don't know."
Either way, the story is unprecedented for the state. Ansah and Lotulelei should both be top-10 draft picks. To put that in perspective, BYU has had eight all-time first-round picks, beginning with quarterback Marc Wilson in 1980 (No. 15) and ending with Rob Morris in 2000 (No. 28). Utah has had six, the most recent being lineman Jordan Gross at No. 8 in 2003 and Alex Smith No. 1 in 2005.
Which renders this year's draft unusual indeed.
"These kids would be the two most talented kids on USC's defense," the scout said. "On a lot of teams, really. They're the real deal. They're better than anyone at Texas, better than anyone at Oklahoma, better than anyone in the Big 12."
He rated Oregon's Dion Jordan the best defensive player in the West, but otherwise, Ansah and Lotulelei are in a class by themselves. One is the Reece's Buzzer Beater (Baskin Robbins flavor of the month) of the draft, the other familiar as Rocky Road.
"It's been a crazy journey," Ansah said.
Yet melt-in-your-mouth sweet.
Email: rock@desnews.com; Twitter: therockmonster; Facebook: therockmonster