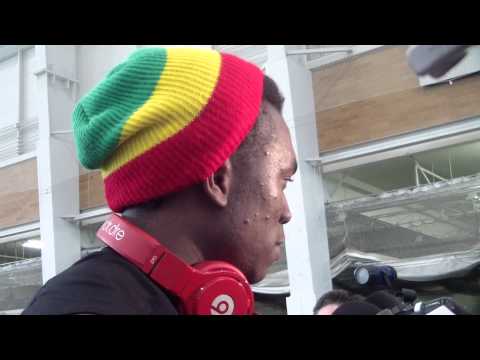 View 3 Items



PROVO — Former BYU football players performed in front of NFL scouts during the program's pro day on Thursday. The participants included Brandon Ogletree, Uona Kaveinga, Braden Brown, Braden Hansen, and, of course Ezekiel Ansah, who received the majority of focus.
Ansah is projected to be a top 15 pick in the upcoming NFL draft by just about every source out there following his performance at the NFL combine. Ansah was put through some intense workouts, but didn't take part in timed drills.
"I didn't think I could do anything more to impress people out here," Ansah said. "I know I'm fast."
Ansah blew observers away with his 4.63 forty at the combine.
The player who perhaps helped himself most during pro day was linebacker Brandon Ogletree, who ran a 4.61 forty.
"I feel like I'm an NFL player and we'll see what happens," Ogletree said. "I think I turned a lot of heads today."
NFL scouts in attendance included representatives from the Pittsburgh Steelers, Green Bay Packers, Chicago Bears, Cleveland Browns, Buffalo Bills, New Orleans Saints, Denver Broncos, Cincinnati Bengals Kansas City Chiefs and the Oakland Raiders.
"It was exciting," said Preston Hadley. "People dream to have an opportunity like this, to even be considered for the NFL, so to be in this position, I feel real fortunate."
Hadley didn't know his exact forty time, but assumes it was around 4.50.
Joe Sampson participated in Pro Day after being dismissed from the team before the end of last season. The safety prospect was one of the few disappointed with his workout.
"I slipped a bit running my forty and didn't run it as fast as I know I can," Sampson said. "It was great to be out here though and I'm real thankful to Coach (Bronco) Mendenhall for allowing me to participate here and hopefully I get on with a team."
Email: [email protected]
Twitter: @BrandonCGurney