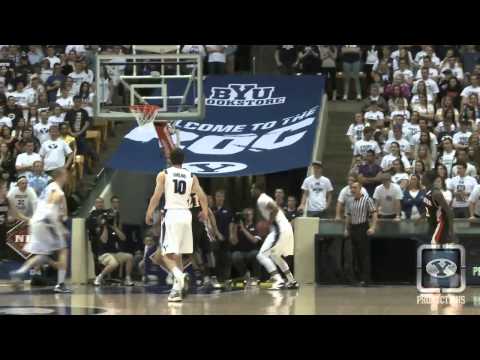 View 20 Items

PROVO — No, the National Invitation Tournament isn't the NCAA tournament.
But BYU is simply happy to still be playing.
The No. 3 seed Cougars proved that again Monday night with a resounding 90-71 NIT second-round victory over No. 7 Mercer before a crowd of 12,929 at the Marriott Center.
With the win, BYU improved to 23-11 on the season, and will advance to the NIT quarterfinals at No. 1 Southern Miss. The Cougars and Eagles (27-9) will meet Wednesday (6 p.m. MST, ESPNU) in Hattiesburg, Miss.
"It feels great just to keep playing. We're rolling," said senior Brandon Davies, who scored 26 points and grabbed 10 rebounds in the final home game of his collegiate career. "It's a lot of fun the way we're playing. Everyone's dialed in and every game we're battling to keep playing. No one wants to be done. I think you saw that tonight."
Along with Davies, the Cougars had four players score in double figures, as Tyler Haws had 24, Matt Carlino chipped in 18 and Brock Zylstra added 14.
As a team, BYU knocked down 10 3-pointers, including five from Carlino, who also dished out nine assists.
"We're just playing free, having fun," Carlino said about the way his team has played in the NIT. "It's just clicking."
The Cougars scored 90 or more points in both of their NIT games.
"When we find that third scorer, we've been pretty good all year long," said BYU coach Dave Rose. "Tonight, we got four. It's just been consistency with our group. I think the last two games anyway, the guys have stepped up. … The kind of slogan we're rolling on is 'to get another game.' We've got another game."
After falling in the quarterfinals of the West Coast Conference tournament earlier this month, BYU has been eager to redeem itself in the postseason.
"The disappointment of the conference tournament was real to our players," said Rose. "They really feel excited about this opportunity to continue to play, and not finish with the note we had there. It's good to see. They're playing with a lot of togetherness. Our practice sessions are paying off."
Thanks in part to Florida Gulf Coast's amazing run to the Sweet 16 of the NCAA tournament over the weekend, Mercer had BYU's full attention Monday.
The Bears, who finished the season with a 24-12 record, won the Atlantic Sun Conference regular-season championship, ahead of FGCU.
"We talked about that," Rose said. "You take that team and you see how they're playing and they become the nation's favorite team, the underdog — and realize that (Mercer) finished ahead of them. You realize as good as that team has played, this team won the league. They've got to be pretty good."
"(FGCU) made it far in the tournament, so you know their league isn't weak," Davies said. "They come from a strong conference. They fight until the end. They're a good team, and they didn't back down at any point in that game."
The Cougars set the tone early, as they hit their first three shots — all 3-pointers, as Carlino hit two and Zylstra one. Early on, BYU led 11-3.
"We were really good, from start to finish," Rose said. "We played with a lot of heart and emotion, a lot of passion."
Midway through the first half, the Cougars stretched their lead to 28-11 before Mercer fought back to cut the deficit to six.
But while BYU was drilling shots from 3-point territory, Davies was having his way inside.
"We just couldn't keep the ball out of Davies' hands," said Mercer coach Bob Hoffman. "He's a talented guy. We tried different things to keep the ball away from him, but we couldn't stop him. It is hard to come back when BYU was hitting 35- and 40-footers."
A couple of times, the Bears trailed by just five points, but the Cougars responded with another 3-pointer to push the lead back to double digits. BYU led by as many as 21 in the second half.
With less than five minutes left in the game, Davies went to the floor battling for a loose ball. He remained on the floor for a few moments and it appeared he was injured. Davies was taken to the locker room for evaluation. He returned to the game, however.
Afterward, Davies said he re-injured his finger, which was caught on the jersey of another player, on the play. "Nothing serious," Davies said.
Following the game, Davies and Carlino introduced themselves to one of the ESPN announcers — and basketball legend — Bill Walton.
"He said he liked the way that we played," Carlino said. "It was special to meet someone like that."
NOTES: BYU has now won seven straight NIT home games. … Davies now has 1,655 career points, moving him into 10th all time in school history. … Davies is now in the top 10 in BYU history in scoring (10th), rebounding (7th), steals (9th) and blocks (5th).